Nationals fire hitting coach Rick Eckstein
After scoring two runs or fewer in seven of their last 10 games, the Nationals have fired hitting coach Rick Eckstein. Rick Schu takes over.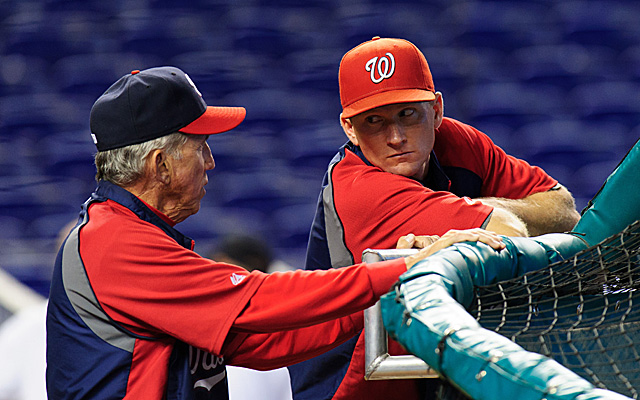 More MLB: Scoreboard | Standings | Probable Pitchers | Sortable Stats | Odds
Fresh off a three-game sweep to the Dodgers at home, the Washington Nationals have now won just two of their last 10 games. In seven of those 10 games, the Nationals' disappointing offense mustered two runs or fewer. So it was only a matter of time before the hammer dropped in the midst of this largely disappointing season.
And it has. The Nationals fired hitting coach Rick Eckstein on Monday and replaced him with Rick Schu, the club announced in a press release.
The Nationals are collectively hitting .240/.300/.383 and rank 14th in the National League in runs scored. Last season, they hit .261/.322/.428 and ranked fifth in the NL in runs en route to an MLB-best 98 wins.
Eckstein, 40, was hired as the Nationals' hitting coach in October of 2008. Yes, he's also the brother of David Eckstein.
Schu has spent the last four seasons as the Nationals' minor-league hitting coordinator and the press release notes that he "has pre-existing relationships with Bryce Harper, Anthony Rendon, Steve Lombardozzi and Roger Bernadina."
Schu, 51, spent parts of nine seasons in the bigs from 1984-1996, hitting .246/.310/.384.
The Royals changed hitting coaches earlier this season. They were 21-29 when they made the move and have gone 24-21 since.
Show Comments
Hide Comments