Nationals racing presidents will head to Mt. Rushmore
Nationals racing presidents 'Teddy' and 'Bill' will race all the way to Mt. Rushmore for Presidents' Day.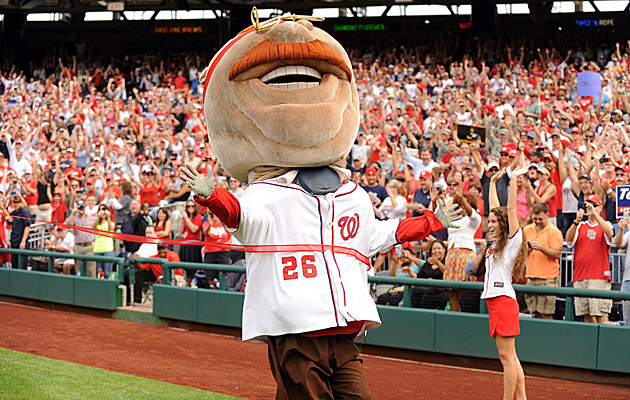 Teddy's big victory last season. This year he has a new foe in Bill. (Getty Images)
The Washington Nationals racing presidents have become a pretty big deal, partially because it's a great promotional idea in our nation's captial, and partially due to the excellent marketing strategy that was having "Teddy" (Theodore Roosevelt's likeness) lose every single race for years. The "Let Teddy Win" campaign finally came to fruition this past season, when Teddy won his first race.
Now, Teddy has a new rival, "Bill" (William Taft's likeness). And the two will race all the way to Mt. Rushmore this month.
To kick off the Bill-Teddy rivalry, the two Presidents will "race" from D.C. to Mount Rushmore beginning Friday, February 15 and join the other Racing Presidents at the monument on Presidents Day. Fans can cast their ballots for "Bill and Teddy's Executive Adventure" on Twitter by using #VoteBill or #VoteTeddy to identify which of the two presidents they think should win. One randomly selected user of each hashtag will win a private mascot appearance with their respective Racing President. Official sweepstakes rules will be posted to the Nationals official Twitter account (@Nationals) when the contest launches on February 15.
All five of the racing presidents will then celebrate Presidents' Day at the monument.
Also, a Bill and Ted's Excellent Adventure reference? Most outstanding!
For more baseball news, rumors and analysis, follow @EyeOnBaseball on Twitter, subscribe to the RSS feed and "like" us on Facebook. Also, individually interact with us on Twitter: @MattSnyder27, @daynperry and @mikeaxisa.

Show Comments
Hide Comments