Nationals' Strasburg gets 2nd win, but already on way to dominating
SAN DIEGO -- Stephen Strasburg has been looking forward to heretofore unheard of freedom this season, and Thursday night here he got a good taste. For the first time in 54 career starts, Strasburg pitched in the eighth inning. History was made. ...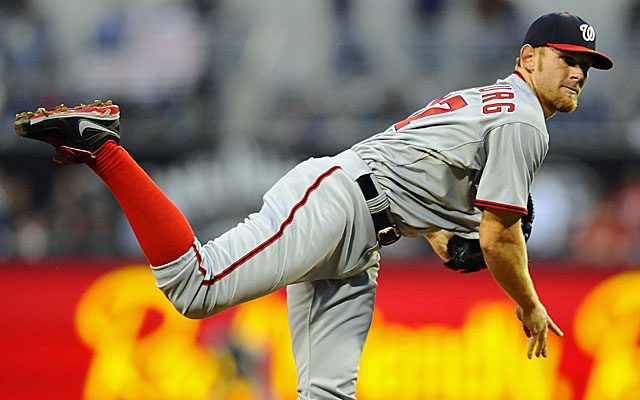 SAN DIEGO – One small step for the Nationals ... one giant leap for Stephen Strasburg.
The big news wasn't that an offense that has been generally unsupportive for him all season popped for six whole runs.
It wasn't that Strasburg actually earned a victory for the first time in eight starts, a 6-2 steamrolling of the Padres.
And the big news turned out not even to be his first career start in Petco Park, just a few miles from where he pitched collegiately for Hall of Famer Tony Gwynn at San Diego State.
No, no and no.
The story here was that for the first time in his major league career, Strasburg ventured out to the mound in the eighth inning.
Unshackled from the innings limit of 2012, Strasburg has been working hard toward pitching deeper into games. And finally, Thursday night he tunneled into depths he had not yet seen.
"Davey has given me a little bit more trust," Strasburg, who at times has seemed as much science experiment as pitcher, said of manager Davey Johnson. "I'm strong enough to go over 100 pitches and be successful, and not lose movement."
Closer Rafael Soriano came in to seal it off after Strasburg had thrown 117 pitches in eight innings, holding the Padres to one earned run and three hits. He walked three and struck out four.
That last number is particularly notable. At 24, Strasburg this season has not been the strikeout machine he was earlier in his career. And that is by design.
One of his big projects this spring was pitching to contact, because the downside of racking up strikeouts is too many pitches by the sixth inning.
He still throws hard – he was pumping 97 m.p.h. heat in the eighth inning. And according to FanGraphs.com, his average fastball this season – 95.6 m.p.h. – is the fastest in the majors. He also is throwing the hardest changeup in the majors at 88.2 m.p.h.
That said, Strasburg still ranked ninth in the National League in strikeouts per nine innings (9.3) and 11th in strikeouts (51).
"Honestly, I don't think he had his best command tonight," catcher Kurt Suzuki said, echoing a sentiment Johnson had expressed a few minutes earlier. "Tonight, he had to pitch. He threw his fastball to both sides of the plate, he kept it down and he pitched to contact."
Whether it was his first outing in his native San Diego as a major leaguer or simply the fact that he's now nine starts into 2013, his stuff sizzled – early, especially. Suzuki noticed that he was at 96, 97 on his fastball early in the game instead of 92 or 93.
Not to get lost in the evening, either, was a key moment in the fifth. With two on and one out in a 4-0 game, the Padres' Kyle Blanks drilled a ball down the third-base line that would have scored two runs if not for Gold Glover Ryan Zimmerman's quick grab.
But Zimmerman fired wide to second base on the force attempt, allowing one run to score.
Until Thursday, Strasburg has let errors like that lead to big innings more often than a big-game pitcher should. And this has been a regular occurrence: The eight unearned runs opponents have scored entering Thursday tied for the most in the majors.
Against the Padres, he recovered quickly with a ground ball and a strikeout to shut down the fifth inning without any serious damage.
Johnson noticed, and the rest of the Nats surely did, too.
"That's what a good pitcher does," Strasburg explained.
All part of the ongoing education of a phenom who is older now and, at times, remains a bit rough around the edges. While the eight innings were a career high, the 117 pitches were only the second-most of his career. Last June 8 in Boston, he threw 119 pitches.
"Last year," Johnson said, "I cut him short because he was on an innings limit.
"This year, I'm going to be pushing him."
Show Comments
Hide Comments