Nats' Harper nixes knee surgery talk, plans to get 'big as a house'
Following an extremely productive but injury-plagued season, Bryce Harper said he plans to work out and come to spring training 'as big as a house.'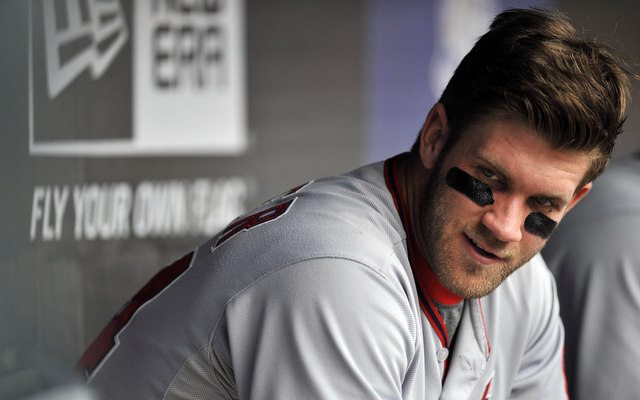 More MLB: Scoreboard | Standings | Probable Pitchers | Sortable Stats | Odds
The Nationals' disappointing season makes it very easy to overlook the fact that Bryce Harper just had one of the best seasons by a 20-year-old in baseball history. He did most of it while dealing with nagging (and self-inflicted) injuries as well, thanks mostly to his penchant for running into outfield walls.
Despite talk that he will need offseason surgery to clean up his left knee, Harper told Adam Kilgore of the Washington Post that he doesn't anticipate going under the knife this winter:
"I really don't see that," Harper said. "It's more trying to take the time off and let everything settle down. Everything is just swollen and things like that. I really don't see going under the knife or anything like that."

...

"Body-wise, I felt pretty good except for when I did run into the walls," Harper said. "You're going to have your aches and pains. I think everybody does. That's just how it is. I think going to the offseason, it's going to be very nice to take that month off and get recovered, then hopefully get my workouts in and get big as a house and go to spring training."
Harper said he plans to go home to Las Vegas and "take that month off and clear my head and not worry about anything" now that the season is over. Once he has had his rest, he plans to hit the weight room and begin his offseason training program so he can show up to spring training "as big as a house."
While being limited to 118 games due to a variety of injuries (knee, hip, thumb, face), Harper hit .274/.368/.486 (133 OPS+) with 20 home runs and 11 stolen bases this season. At 3.8 WAR, it was the ninth-best season by a 20-year-old position player in the expansion era (1961-present).
On paper, the Nationals don't have as much work to do this winter as the typical team that finishes four games back of a playoff spot and 10 games back in the division. Their young core is strong and Harper is a huge part of that, obviously. They just have to figure out a way to keep him healthy. Some pitching depth and a bench are the only really glaring needs this offseason.