NLDS Pirates-Cardinals Game 1 starting lineups
The Pirates and Cardinals are set to square off in NLDS action Thursday. Here are the lineups for Game 1.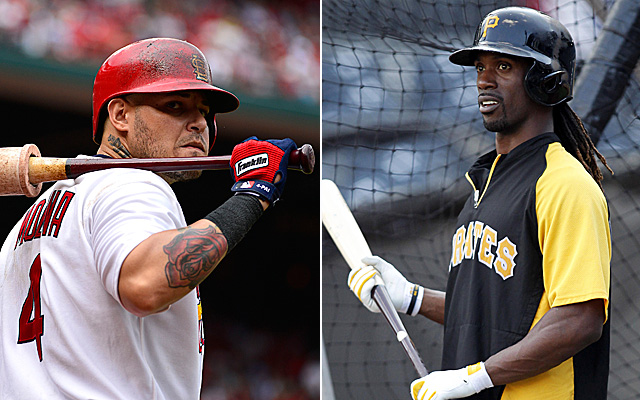 Pirates at Cardinals: Who's got the edge? | Game 1 pitching preview
At 5:07 p.m. ET (4:07 local time), the Pittsburgh Pirates are set to take on the St. Louis Cardinals in Busch Stadium. Here are the lineups for the bout.
The visiting Pirates:
1. Starling Marte , LF
2. Neil Walker , 2B
3. Andrew McCutchen , CF
4. Justin Morneau , 1B
5. Marlon Byrd , RF
6. Pedro Alvarez , 3B
7. Russell Martin , C
8. Clint Barmes , SS
9. A.J. Burnett , SP
And the home Cardinals:
1. Matt Carpenter , 2B
2. Carlos Beltran , RF
3. Matt Holliday , LF
4. Matt Adams , 1B
5. Yadier Molina , C
6. Jon Jay , CF
7. David Freese , 3B
8. Daniel Descalso , SS
9. Adam Wainwright , SP