No doubt now that Jed Lowrie has fit into the Oakland A's puzzle
The A's traded for Jed Lowrie when they didn't seem to need him. Now, a month into the season, he's playing every day and batting third.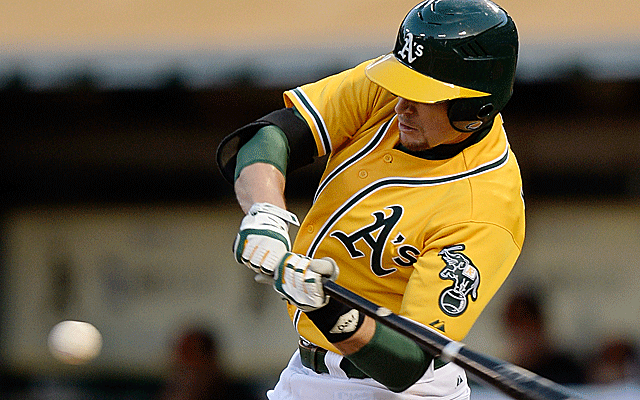 NEW YORK -- Jed Lowrie was something of a late addition to the A's, and something of a puzzling one at that.
They traded for Lowrie a week before spring training, even though they didn't really have a position open for him. They traded for him even though he was due to make $2.4 million, which isn't that much except . . . well, they are the A's.
Anyway, here we are a month into the season, and Lowrie is playing everyday at shortstop (except for a few recent days when he has been at second base). Here we are a month into the season, and on a team that is depending on big offense to win games, Lowrie batted third on Friday night at Yankee Stadium.
Remind me again why we were so puzzled by the trade that sent Lowrie from the Astros to the A's?
Oh yeah, because the A's supposedly already had a shortstop, and a second baseman, too. Except that the shortstop was Hiroyuki Nakajima, and before he got hurt, he was already disappointing. The second baseman was Scott Sizemore, and before he got hurt, he didn't look that great, either.
It didn't take many days into spring training for the A's to start believing that Lowrie might well be the most important infielder on their roster.
"We saw his swing and the way the ball jumps off his bat, from both sides of the plate, and we started to realize what we had," manager Bob Melvin said Friday. "He's just been a great pickup for us."
But anyone who has followed Lowrie's career can tell you what usually comes next.
There's a reason he's never played 100 games in any of his first five big-league seasons, and it's not that he couldn't hit. Getting into the lineup was rarely the problem, but staying healthy enough to stay in the lineup has always been an issue.
So did you notice that Lowrie had to miss two games this week?
"That was a complete fluke," he said. "I woke up one morning with a kink in my neck, and then playing 19 innings the next day didn't help."
He was back in the lineup Friday. He's played in 28 of the A's 30 games. He set an Oakland record for most hits in April.
The A's have needed the offense. The young rotation that carried them to the surprise division title last year has been hard to trust so far this season. Jarrod Parker has a 7.36 ERA. Brett Anderson has a 6.21 ERA and is hurt again. Dan Straily has given up eight runs in 11 1/3 innings in his two starts.
"They have the ability to be better, and they will be," Melvin said.
The A's have faith that things will work out, just as they asked Lowrie to have faith that he'd get a chance to play, even though they had no real position for him.
"I learned a lot playing in Boston, with all the drama that is created there," he said. "It's certainly a different feel to the game [in Oakland]. The story kind of creates itself here."
The story created so far is of a guy the A's have badly needed. And not of a guy who you wonder why they bothered to get.
Show Comments
Hide Comments