Numbers Game: Blown save helps highlight Mariano Rivera's greatness
Mariano Rivera's no-out blown save Tuesday didn't prove he's human. It just helped prove again that he's the greatest ever at his job.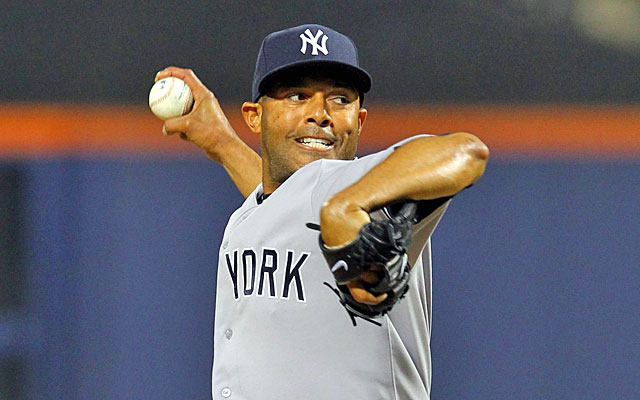 Forty or 50 times a season, a relief pitcher comes into a game in a save situation, gives up the lead and departs without recording an out.
It happens.
Until Tuesday night, it had never happened to Mariano Rivera . Not once. Not in 1,071 appearances. Not in 729 save opportunities.
Not in 17-plus seasons as a full-time reliever. And not in 96 postseason appearances.
Funny how a failure can help prove how great a player has been.
Rivera entered Tuesday's game at Citi Field with the New York Yankees leading 1-0, He faced three batters, allowed three hits and walked off the mound a 2-1 loser against the New York Mets .
It happens.
There are four closers in the Hall of Fame (Dennis Eckersley, Rollie Fingers, Rich Gossage and Bruce Sutter). It happened to them a combined 18 times (at least three times each).
It has happened 17 times already this season. It happened to every one of the top 28 closers on the all-time saves list, three or four times to most of them (Jeff Reardon did it eight times).
It has happened 863 times since Rivera became a full-time reliever in 1996.
It's just incredible that it had never happened to Rivera until now. And just more proof that he's not just the best ever at what he does, but far and away the best ever.
A few more numbers from the week:
• As Dave Cameron of Fangraphs pointed out, Rick Porcello 11 strikeouts Tuesday night against the Pittsburgh Pirates were more than he had in all five of his April starts combined. Porcello gave the Detroit Tigers their eighth double-digit strikeout game by a starter this season (three from Max Scherzer , two each from Justin Verlander and Anibal Sanchez ). The last team with eight double-digit strikeout games this early in a season? The 2003 Arizona Diamondbacks , who had five from Curt Schilling, two from Randy Johnson and one from Brandon Webb. The Tigers as a staff have struck out 10 or more in 27 of their 50 games, the most ever by a team in the first 50 games of a season. Second-most? This year's Boston Red Sox , with 25.
•  Evan Gattis homered as the Atlanta Braves  designated hitter Monday night. Brian McCann homered twice as the Braves' DH on Tuesday night. That's three home runs from the DH spot -- one more than the Tigers have all season. Too bad the Braves don't have another game with the DH until June 25 in Kansas City.
• Major-league teams have won 122 games this year when they've trailed after five innings. The Los Angeles Dodgers haven't done it once. The Houston Astros are the only other team that hasn't. The San Francisco Giants and Pirates have already done it nine times each.
Show Comments
Hide Comments