OLD PHOTO: The Cubs' older, more bloodthirsty mascot
The Cubs have a new mascot. Now let's recall their old one.
MORE: FA tracker: position players | FA tracker: pitchers
You'll recall that the Cubs of Chicago recently unveiled a new mascot. As mascots go, it's fairly benign and in keeping with industry-wide best practices ("bro hat" notwithstanding). This, of course, didn't prevent people from flipping out over it, but that's what we do these days: flip out over things. 
In any event, know that the Cubs' distant past is littered with other mascots. One was a live bear. Another, in the championship season of 1908, was ... whatever this is: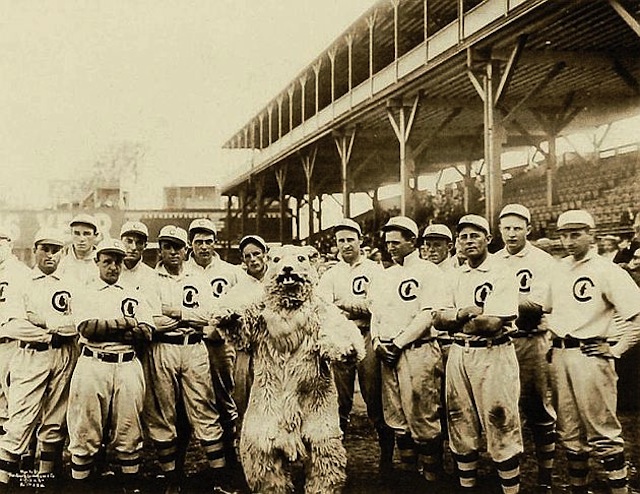 Excelsior! As I see it, what you witness above can be one of just two things: A polar were-bear with rabies or one of the two bears that Elisha in 2 Kings 2: 23-24 summoned to maul the 42 children who made fun of him for being bald. One or the other. Or both, I suppose.
(Wink of CBS eye: NotGraphs)
Show Comments
Hide Comments
Our Latest Stories
Don't run on the field, people. Especially when Angel Pagan is in the house

Not that you thought otherwise, but Miggy's finishing up strong as the Tigers eye the post...

Bruce initially struggled after being traded to the Mets. He's not struggling now
Ortiz's two-run blast gave the Red Sox a 5-3 lead that would hold up, dealing the Blue Jays...

Here's a look at the postseason race standings with three days left in the regular season

GM John Mozeliak says the team probably isn't going to exercise their option on Holliday for...