On Day 2, Hamels yet again gives writers the silent treatment
There's little question Phillies star Cole Hamels is frustrated. But about exactly what we don't yet know.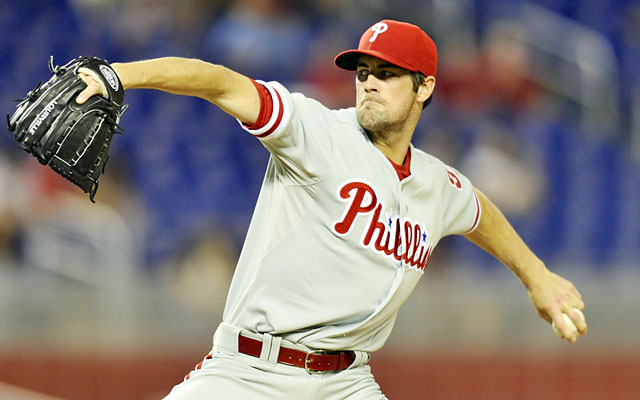 MIAMI -- Cole Hamels was more silent than the Phillies' bats again Tuesday.
Hamels, the team's $144 million pitcher who left without interviews after losing late Monday, declined an interview request from CBSSports.com (and at least one other reporter who asked) before Tuesday's game with the Marlins.
Hamels' frustration is obvious, but he's left others to speculate what's troubling him. Could it be a Phillies offense that's supported him to the tune of a meager 2.87 runs, which according to MLB.com ranks him 101st of 107 qualifying pitchers in terms of support?
Phillies manager manager Charlie Manuel said he believed Hamels' silence was something other than a "message'' to his offense.
"I don't think so,'' Manuel said. "I think he was more upset because we didn't win and he pitched good. He pitched very good. It's confusing to him when he pitches like he did and it's hard for him to win. That's the competitor in him. That's the part that was upsetting. Probably he thought it was best that he didn't talk to you.'''
That could well be, but his silence left others to speculate. One Phillies person suggested that if he is only upset with the hitters, he shouldn't be. "It's not just the hitters,'' that person said. "He has a four-and-a-half ERA.''
Hamels' ERA is precisely 4.61 now, to go with his 1-7 record following the 5-1 defeat to the Marlins on Monday. He allowed seven hits and two runs while walking none and striking out 10. Someone mentioned Hamels hasn't pitched with a lead since April 7.
Phillies people have suggested the contract (he signed for $144 million over six years during last season) or limp offense could be making him feel extra pressure.
"I think it's a little bit of both,'' Manuel said. "He's such a competitor and wants to show he can handle it. He's not getting any runs. We've got to get him some runs.''
If they don't, we may never hear from him.
Show Comments
Hide Comments
Our Latest Stories
The tournament began with first round play on March 6

A champion will be crowned on Wednesday night

A champion will be crowned on Wednesday evening
Kinsler says Team USA shows its passion in a different way

Team Puerto Rico has started a trend

Tuesday night's semifinal included rain, but conditions should be much better for the championship...