Orioles' Chris Davis joins All-Star lineage of Aaron, Griffey, Ripken
Before this year, good luck finding anybody outside of Baltimore who could name the Orioles' first baseman. But with a home run seemingly every night, Chris Davis proves power still sells as fans make him the All-Star Game's top vote-getter.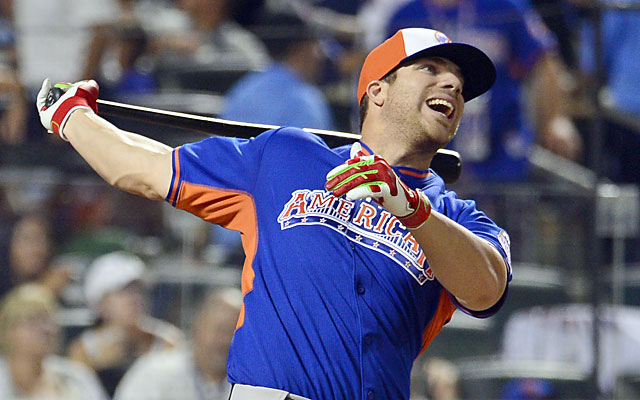 NEW YORK -- Midsummer at CitiField, the All-Stars are all in their places with all-starry faces, and two things immediately moved to the forefront on Monday:
• Quick, can someone crank up the air conditioning before Tuesday night's 84th All-Star Game? It is smoking hot -- 96 degrees -- with shoe-melting humidity here right now.
• Which is the more surprising number at midseason, that Orioles sensation Chris Davis has slugged 37 home runs already or that the guy is the freaking top All-Star vote-getter in all of the land?
"It's a pretty big honor," America's newest hero said on a day so much more suited for swimming pools than Home Run Derbies that baseball officials roamed around the room during 45-minute media sessions handing out towels to aid the players' clothes in soaking up sweat.
No kidding. Davis checked in with 8,272,243 votes to lead all players. Before this summer, I believe only eight people outside of the Baltimore area had even heard of Davis. Seriously, the guy might have had difficulty winning a seat in voting for his local Homeowners' Assn. Board of Directors.
Now, the earnest, friendly and supremely talented Orioles slugger not only has a chance to show America he's got talent on Tuesday night, he also joins an incredible All-Star top vote-getter lineage that includes Albert Pujols, Alex Rodriguez, Ichiro Suzuki, Ken Griffey Jr. (five times!), Cal Ripken Jr., Barry Bonds, Reggie Jackson and Hank Aaron.
"I thought going into it it would be an honor just to be selected," Davis said.
Instead, he won in a landslide. Talk about a mandate. Voters did everything but order him caviar and champagne.
As the appreciative Davis correctly noted, he got so many votes that it wasn't only the Baltimore precinct checking in with an overwhelming total. From sea to shining sea, the votes poured in.
"Everybody across America noticed," Davis says. "It's an awesome feeling."
Truthfully, it's impossible not to notice what Davis is doing this summer. Remember the famous story from 1928, when the Republicans claimed if Herbert Hoover was elected president there would be a chicken in every pot? By the time that Davis is finished in 2013, he'll have deposited a home run in every boy's backyard.
Based on that, the Giants' Buster Posey has absolutely no problem ceding his status as leading vote-getter (National League, last summer) to Davis.
"No, it wasn't tough at all," Posey said, breaking into a smile. "He's got, what, 45 or 50 home runs? Oh, just 37."
Who knew Posey was such a jokester? Look at what Davis is doing. He's so hot, he's turning fellow All-Stars into Steven Wright.
"I went down to the 24-hour grocery," goes one bit in the brilliant comedian's routine. "When I got there, the guy was locking the front door. I said, 'Hey, the sign says you're open 24 hours.' He said, 'Yes, but not in a row.'"
Davis, 27, is open for business all day, every day. Has been since belting four home runs and collecting 16 RBIs in the Orioles' first four games this season.
At the break, he leads the majors with 37 homers, a .717 slugging percentage, 246 total bases and 64 extra-base hits, and he's second in the majors to the Tigers' Miguel Cabrera with 93 RBI.
That's probably the biggest surprise in the voting right there. Cabrera.
"I thought Miggy would run away with it," Davis says. "The guy is in the running for another Triple Crown.
"Absolutely, I thought he'd run away with it."
Graciously, Cabrera sent the love right back Davis' way on Monday.
"Fans, they know what they're doing," he said. "He tied the record for home runs before the break [his 37 equals Reggie's total at the 1969 All-Star break].
"People have been great to him. It's his first time in an All-Star Game, the Home Run Derby. He deserves it."
Plus, he's got one of the absolute coolest nicknames in the game.
Crush Davis.
Yeah, baby.
"I've known about Chris since I've been in professional baseball, and we played Oklahoma City [in the minors]," Posey said. "Hearing his bat going through the zone, it's the type of sound you hear with Giancarlo Stanton. And it's an easy swing.
"That's why he's having such success."
"You see him in the weight room lifting as much weight as he can, and then he picks up a bat that looks like a tree to me,' said Orioles shortstop J.J. Hardy, who also was elected into the American League's starting lineup. "And he swings it like a toothpick."
The one drawback there is, you know what that means. Admit it -- you're suspicious right now, aren't you? There's a part of you that wonders if we're headed right back down the snake-infested steroid path.
Davis does not shrink from this.
While he talks about how the Mark McGwire-Sammy Sosa home run race in 1998 helped bring the game back after the strike, he also says flatly that he views Roger Maris' 61 homers in 1961 as the single-season record.
"In my opinion, 61 is the record," he repeated Monday. "And I think most fans agree with me on that."
He does not flinch from discussing the game's impending reckoning with the Biogenesis scandal that could result in some 20 suspensions. And he does not shy away from his sudden emergence as a slugger.
He talks about baseball's "super-sophisticated" drug-testing system and doesn't understand why anybody would try to cheat it. He talks about his responsibility to give fans "a little hope for the future."
"I know nobody cares about Triple-A," Davis said, "but I put up these numbers in Triple-A."
At Round Rock in the Rangers' system, in 2011, he hammered 24 homers in 48 games (193 at-bats).
He ain't at Round Rock anymore.
He is sitting at a table in the Jackie Robinson Rotunda, surrounded by All-Stars, having the time of his life.
"Oh, my gosh," he said. "Yeah, it is fun. This really makes you appreciate how hard this game is. And we're only halfway through the season.
"Any chance I get to step back and soak it in, I do it."
Show Comments
Hide Comments