Orioles sign Dontrelle Willis to minor-league deal
The Baltimore Orioles have signed left-handed starting pitcher Dontrelle Willis to a minor-league contract.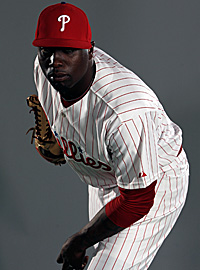 Pick your cliche here.
We could go with:
You can't derail the D-Train
.
Or maybe:
This cat has nine lives.
Whatever we choose, the news remains the same:
Dontrelle Willis
has again found a job after being released by the Phillies last week. Willis allowed five hits, five earned runs and four walks in just 2 2/3 innings for the Phillies this spring.
The biggest news here, at least for me, is which team has signed the 30-year-old left-hander: The Baltimore
Orioles
.
Willis' agents announced the deal on Twitter
Tuesday evening.
The Orioles now have approximately one pitcher in camp for every dollar of our nation's debt. I kid, I kid. But it's awfully crowded.
Here's a non-complete list of potential Orioles starting pitchers this season:
Zach Britton
,
Wei-Yin Chen
,
Jason Hammel
,
Brian Matusz
,
Jake Arrieta
,
Brad Bergesen
,
Chris Tillman
,
Tsuyoshi Wada
,
Tommy Hunter
,
Dana Eveland
,
Armando Galarraga
and
Alfredo Simon
.
So if you ever pitched at a high level and feel like you're in even decent shape, it can't hurt to report to Orioles camp. They don't seem to be content with any number of competitors for the pitching staff.
Show Comments
Hide Comments