Pablo Sandoval makes unlikely history with three-homer game
The Giants took an early lead on an unlikely home run in Game 1 -- and then Pablo Sandoval added two more, becoming the first Giants player to ever hit three homers in one World Series game.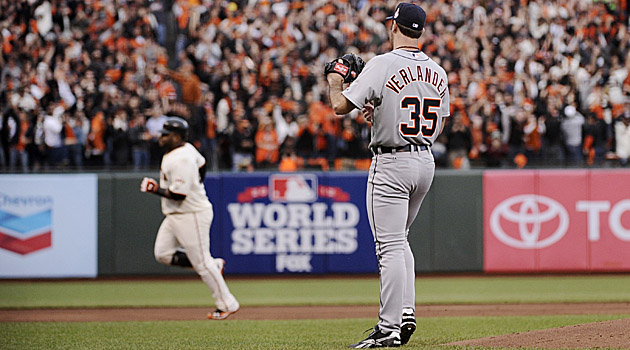 Panda overpowered Verlander in the first inning of Game 1. (US Presswire)
SAN FRANCISCO -- Giants third baseman Pablo Sandoval has made history, becoming just the fourth player in major league history to homer three times in a World Series game. And under the circumstances, it has to qualify as the most unlikely.
Tigers ace Justin Verlander only allowed 0.7 home runs per nine innings in the regular season. He only gave up two homers in 24 1/3 postseason innings heading into Game 1 of the World Series -- and one of those came when he was gassed against the Yankees in the ninth inning.
Also, AT&T Park was the hardest ballpark in the majors in which to hit home runs during the 2012 regular season.
So, naturally, in true can't-predict-baseball fashion, the Giants took a 1-0 lead in the first inning of Game 1 Wednesday on a Sandoval home run to center field. Not only that, it marked the first time Verlander coughed up a homer on an 0-2 count all season.
And then Sandoval struck again -- with another homer off Verlander -- this time with a runner on in the third inning. At that point, he joined Benny Kauff (Game 4, 1917) and Jeff Kent (Game 5, 2002) as the only Giants players in World Series history with a two-homer game.
And then ... Sandoval did it again. For the first time in World Series history, a Giants player has a three-homer game. Sandoval hit yet another home run in his third plate appearance. Three times to the plate, three home runs.
Only four previous times in World Series history has a player hit three homers in a game:
• Babe Ruth, 1926
• Babe Ruth, 1928
• Reggie Jackson, 1977
• Albert Pujols, 2011
Follow Game 1 LIVE on CBSSports.com Gametracker
For more baseball news, rumors and analysis, follow @EyeOnBaseball on Twitter, subscribe to the RSS feed and "like" us on Facebook.
Show Comments
Hide Comments