Papelbon admits 'I was in the wrong' in choking incident with Harper
Jonathan Papelbon admitted to being in the wrong during last year's choking incident with Bryce Harper. He said he's apologized to his teammates and would like to apologize to fans.
The 2015 season went from disappointment to disaster for the Nationals on September 27, when recently acquired closer Jonathan Papelbon choked franchise cornerstone Bryce Harper. Papelbon reportedly did not like the way Harper ran out a fly ball.
I'm sure you've seen it by now, but here's video of the incident in case you need a refresher:
Papelbon was suspended for the remainder of the regular season following the incident, though there were only seven games left to play. Harper hit 42 home runs and put up a .330/.460/.649 (195 OPS+) batting line en route to being named NL MVP unanimously.
The Nationals reportedly attempted to trade Papelbon this offseason but found no takers. They acquired him from the Phillies at the deadline and restructured his contract, turning a vesting option for 2016 into a guaranteed year.
On Thursday, Nationals pitchers and catchers reported to the team's complex for spring training. Papelbon was in camp, and while speaking with reporters, he was very apologetic about the choking incident last year. From Mark Zuckerman of MASN Sports:
"I've apologized to him," Papelbon said, referring to Harper. "I've apologized to my teammates. I want to apologize to the fans and the coaches and everyone included. I think that with what happened last year, I was in the wrong. Should have never went down that way, and I understand that. I had a lot of time this offseason to reflect on that. I've had three months to think about it. I've done a lot of reflecting, and I think sometimes in life, good things can come out of bad situations."

...

"I think the fans will see from me that I play with a great deal of pride," Papelbon said. "And with that pride comes ... I'm not a perfect human being. I'm an imperfect person living in an imperfect world. I don't claim to be (perfect). So for me, I realize that what I did was wrong. And the fans see that. And I see that. But my whole point is that good can come of this. I can redirect this, and we can go out and win 95 games this season and go into the playoffs and be hot and go win a world championship still. That does not deter from that."
It's good Papelbon apologized and it was necessary. At this point the damage has been done though. Even if Harper has forgiven Papelbon, most fans have not, and it's going to take much more than some wins for this to be forgotten.
Nationals fans are upset over the way last season played out and they sure don't like Papelbon after he choked Harper. Friday's apology was step one of making things right. Papelbon still has a lot of work to do if he wants to get on the good side of fans.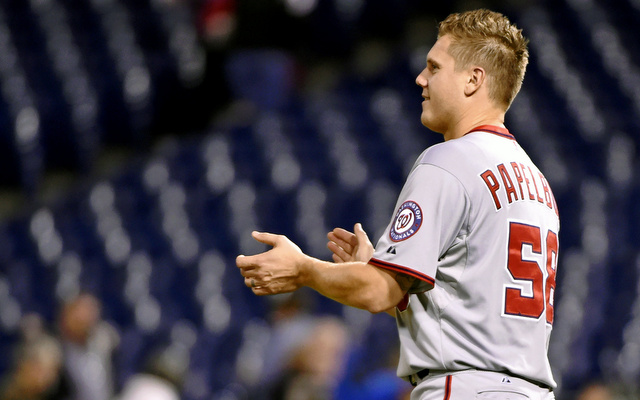 Show Comments
Hide Comments
Our Latest Stories
Giants southpaw Will Smith likely needs Tommy John surgery

It's unclear whether Kang will be join the Pirates at all in 2017

Can the reigning NL East champs take home the flag again?
Valencia has been considered a platoon player for much of his career

Jones said USA used Puerto Rico championship shirts and parade plans as motivation for the...

Regarding the impact of the World Baseball Classic, the commish has a few things to say