Paper Chase: Padres still can't lock up Headley, so will they deal?
San Diego's efforts to sign their homegrown third baseman Chase Headley haven't gone anywhere to date. So might he be traded?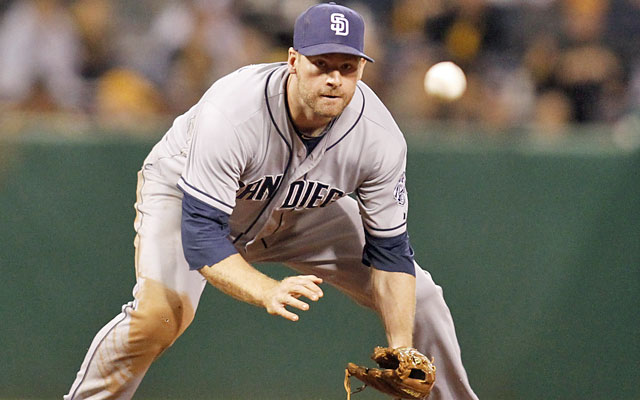 Chase Headley said back in May that he wanted to save the contract talk for the winter. He said he didn't want the talks to become a distraction to the Padres' season.
But now it is the offseason, and there isn't any evidence of substantive contract talks between Headley and the Padres. Is he concerned about it becoming a distraction to their offseason?
Headley hasn't said, and his agent Casey Close couldn't be reached.
But signs are pointing strongly to Headley being on the agenda as a potential name of trade interest at the upcoming Winter Meetings. That alone is a pretty clear signal that he hasn't given the Padres any sign he'd be interested in talking about a long-term deal with them, even in the offseason.
Word going around is that there's zero traction in contract talks after a brief conversation or two earlier this month. It seems like the Padres have been chasing Headley forever. And it's becoming pretty evident he doesn't want to be caught.
Everyone knows how much Padres owner Ron Fowler and general manager Josh Byrnes love Headley, and how the Padres wouldn't bend when many teams came calling in the winter before Headley's terrific 2012 season. Same thing during the '12 season when he was finishing hot. There was lots of interest in Headley back then. But not so much on the part of the Padres in trading him.
Even now, with no contract about to happen, Padres people suggest the most likely scenario is they hold him, not trade him. That could change at the meetings, of course, with the Yankees, Dodgers and others worrying about third base.
Back in May, Fowler said aloud and excitedly that he'd love to try to lock up Headley to the biggest contract in Padres history, which meant something more than Jake Peavy's team record $52-million deal. And Headley reacted by seeming uneasy that the owner made his intentions public. And also by saying that sort of thing would be better left for the offseason.
"I wanted it to be about what's taking place on the field. The reasoning for me wanting to do this in the offseason and not in the regular season is because I know me better than anyone," Headley told reporters after Fowler went public. "For me to go out and play the best I can, not only for myself but this team, more importantly, I need to be completely focused on the field. That's the sole and only purpose behind it."
Well, of course, there's nothing going on on the field now. But there's also apparently still nothing going on between the Padres and Headley in terms of a long-term deal, either.
Undistracted last summer, Headley regressed precipitously, going from 31 home runs and 115 RBI in 2012 to 13 home runs and 50 RBI. The Gold Glove and Silver Slugger winner in 2012 (not to mention fifth-place finisher in the MVP vote) was barely better than an average player last year.
But he still is one year closer to free agency. And he surely sees lesser players like Jhonny Peralta getting more than the Peavy deal (Peralta got $53 million over four years). He knows he's 29 and a well-regarded third baseman. He probably knows there's plenty of possibilities out there for him.
The possibility of Headley signing long-term with the Padres appears to be heading toward nil at the moment, though. Teams aren't clamoring for Headley in trade now like they were a year ago, when he was about the hottest finisher in baseball. But his free-agent price is only rising.
If Headley was merely being polite last May in saying he didn't want to talk contract during the season due to a possible "distraction," well, he wouldn't be the first ballplayer to admit he likes the idea of free agency. Or maybe he just changed his mind.
Though last May, when asked if he'd like to get something done in the offseason with San Diego, he said, "I'm hopeful. There's always that risk. But I think both sides entered into that risk by not getting something done in the offseason (of 2012-13). We made it clear that this is where we stood on it. If there's a deal to be made, it would be done during the offseason."
Now, if there's a deal to be made, it would be more likely a trade. And even that's not so likely.
Show Comments
Hide Comments