Patience, talent won out for Dodgers after unsettling start
When the injuries piled up, so did the losses and the calls to fire Don Mattingly. But the Dodgers stood firm, and when they got healthy, they couldn't be stopped.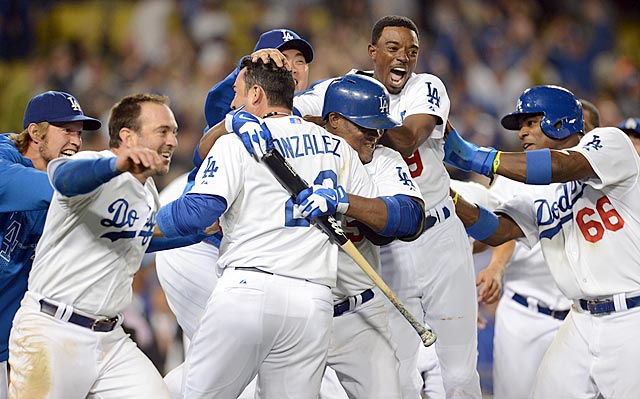 LOS ANGELES -- They lost Hanley Ramirez and Matt Kemp and Zack Greinke and Chad Billingsley and then Kemp again and Carl Crawford and then Josh Beckett. ...
They lost innings, they lost games, and those added up to lost series. Then April was lost and, soon, so was May.
And this is when the Dodgers won the NL West.
When they could have fired manager Don Mattingly, they instead chose patience.
When they could have panicked, they instead breathed deeply and remained calm.
"The toughest thing to have in high-profile situations is patience," Dodgers general manager Ned Colletti says. "Especially when the evaluations come every day."
Not only were the evaluations arriving daily, each one was more ghastly than the previous day's. On July 1, they were still in last place in the NL West.
"We have to have patience on the inside," Colletti continues. "If you believe in your staff, if you believe in your team, you have to give them the opportunity to its fullest.
"You can't do that if you're impatient."
Everyone in Tommy Lasorda's beloved Dodger Kingdom vividly remembers being 12 games under .500 (June 21). They all recall the days when they trailed the Diamondbacks by 9½ games (June 22).
"We weren't going to pick up 9½ games in one evening," Colletti says.
Rarely does a ballclub spend serious time on both ends of the extreme in one summer and live to tell about it. Especially one with the most expensive payroll in major-league history at roughly $216 million. With serious dollars often comes unbearable pressure and expectations.
"Listen, I don't sleep after a loss," Dodgers president Stan Kasten says. "After all the years in this business, losses still kill me. They still eat me up.
"But you wake up in the morning, and you have to make good business decisions. Same thing Ned has to live with. Same thing Don has to do. No matter what happened the night before, you have to make the best decision to win tonight.
"And so I think we have a lot of talent in the organization, both on the field and in the front office, and they got their jobs done."
Mattingly admitted in August that Kasten told him in a private conversation during the worst of the struggles that they may wind up reaching a point where the manager would have to go if they passed a point of no return.
Colletti privately spoke with several players, gauging the depth of the crisis. His takeaway was that as ugly as things were, Mattingly had not lost the clubhouse. The Dodgers still believed.
"You have to be patient," Colletti says. "You don't have a choice not to be patient."
That's not exactly true. The history of professional sports is littered with impetuous owners and executives who act emotionally and impulsively. Across town, the relationship between second-year GM Jerry Dipoto and longtime manager Mike Scioscia has never been the same since the GM fired Mickey Hatcher, Scioscia's hitting coach and consigliore, less than two months into Dipoto's first season last summer.
So maybe he didn't think he had a choice. But he did. And along with Kasten's support, Colletti's backing of Mattingly through a stretch in which many other managers would have had their keys taken away became a significant turning point in the Dodgers' remarkable season.
"I had no question about it," Colletti says of his unwavering belief in Mattingly. "I didn't doubt that for a second."
Neither was Kasten eager to sack the manager, another key aspect of the Dodgers' extraordinary patience.
"At that time, I still believed in the things we had done in our first year here, in the summer and in the offseason," Kasten says. "I still believed we had the pieces which were going to fall into place.
"To a certain extent, that has happened and it's been fun watching the product we thought we were putting together perform. If you want to sum it up, in the first two months, it wasn't just that we were getting guys injured. Because you can get a guy injured, lose him for the year and make an adjustment. Like, we lost Josh, we lost Chad, OK, they're gone, now let's deal with it. That you can do.
"What's harder is when you have the endless carousel of new injuries every week. That's really hard to manage. Getting guys in and out, in and out, not knowing what kind of lineup you're going to have, not being able to develop a routine. Once the carousel stopped, which we thought it would -- it was just bizarre, it couldn't go on forever -- once it stopped around early, mid-June and we could get consistent pieces in place playing in a consistent routine, then the players took over and they played like we thought they were going to."
One of Kasten's guiding baseball principles is that, to be a championship club, it must excel in three of four areas: rotation, bullpen, offense and defense.
"You can win with three of the four," Kasten says. "You can't win with only two. I know we had three. And, frankly, our defense has been better than expected.
"In May, I was saying what I always felt: I still think things are going to fall into place. Thankfully, they did."
Even after ripping off 43 wins in a 50-game stretch and providing Los Angelenos with some of their most memorable hardball moments in decades, nobody needs to remind Kasten and owners Mark Walter and Earvin "Magic" Johnson that the Dodgers have not set foot in a World Series since 1988.
Yes, they embarrassed the rest of the NL West this year.
But the way they look at it, that's just a start.
"Our vision's quite a bit larger than what we've accomplished so far," Kasten says. "We haven't done anything yet. Our goals are much greater than this. Let's see how it all plays out."
He's not only talking about this October. He means this October, and many more.
"Of course," Kasten says. "It's not an exaggeration when I say, and I've said it a million times since I've been here: Listen, we're the Dodgers. This is what the Dodgers should be. I didn't build the Dodgers. This was here long before I or Mark or Earvin got here, or Ned or Don.
"We're the Dodgers. We should be serious contenders every year. I don't know if we're going to win every year, but we should be serious contenders every year because we have a market and a fan base that has earned it by supporting us all the years. We're the Dodgers, and that's the way it should be."
Show Comments
Hide Comments