Pennant or purple heart? Unlucky Rangers may have to confront reality
Texas is already starting to get calls from rivals in hope they hold a sale of stars.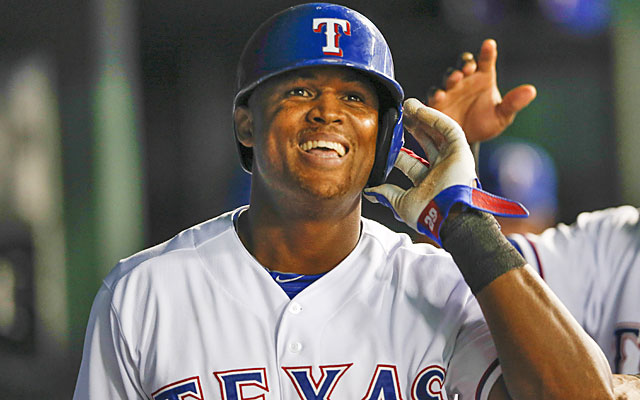 More MLB: Power Rankings | Expert Picks | Latest news & notes | Fantasy news
As if this season hasn't been tough enough for the Texas Rangers -- their 902 days lost to the disabled list are nearly double the next most unfortunate AL team -- rival clubs are now starting to make calls in hopes of picking off their few healthy players in trades.
The Rangers, in many places (including here) the biggest winners of the offseason for importing needed leadoff ( Shin-Soo Choo ) and cleanup ( Prince Fielder ) hitters and seemingly a prime contender to go back to the World Series for a third time in five seasons before players started dropping in winter, now have to confront the possibility that they may have to become a seller. It's not because they are bad, but only because they are infirmed.
As they show a sign or two of finally fading (they are two games under at 35-37 now), teams are starting to pick at their remaining healthy bones. Calls are coming in about the active stars left.
Yes, they've already received trade inquiries on healthy stars Adrian Beltre , Elvis Andrus , Alex Rios and the rejuvenated Joakim Soria , who's back pitching lights out after his second Tommy John surgery and perhaps serving as a role model for lots of Rangers needing comebacks. While the Rangers don't appear to be seriously considering deals for any of their stars at the moment, they also understand the reality is that they may be outmanned as currently constituted, which may eventually cause them to mull the more serious offers.
As for whether Texas is a buyer or seller now, well, it is neither. Not at the moment anyway. General manager Jon Daniels characterized the team's current stance as a "wait and see approach." That only makes sense.
But even the "wait and see" stance has its drawbacks.
Starting pitching is obviously the biggest of all the big concerns. Three fine 20-something starters are out now (including Martin Perez , gone for a year after Tommy John surgery, and Matt Harrison , hoping to become the first pitcher to return from spinal fusion surgery, his third back operation). With questions about whether a team comeback is even possible, the Rangers made only a lukewarm $3-million-plus bid last week for first baseman/DH Kendrys Morales  before he signed with the Twins.
The Rangers have a bit of spending money left, and they aren't usually a team that's outbid by more than double, but Morales went to the Twins for $12 million pro-rated instead. These are, indeed, different and trying times in Texas.
Then, as if on cue, within 24 hours after Morales went to Minnesota in a surprise, Mitch Moreland became the fourth Rangers first baseman to hit the DL with an injury serious enough that it has now caused him to opt for season-ending ankle surgery. If their luck is bad, their timing is off, too.
Meanwhile, the gallant Rangers press on, outmanned but not outhustled.
"They're fighting," Daniels said. "It speaks to Wash [manager Ron Washington] and his style, and Beltre and some of the other veterans. They're working hard. There's been no lack of effort. We're just outmanned in certain spots."
The most obvious of those spots is a rotation that has been nothing short of decimated, with Derek Holland , Tanner Scheppers and Alexi Ogando all out, too, making it a full rotation of potential starters on the shelf. In Oakland the past two days, two straight defeats to their chief rival left them no better than on the cusp of the race.
At some point a pennant will seem less likely than a purple heart.
Rare has a team seen this kind of unending misfortune. The 902 DL days blow away the second- and third-unluckiest AL teams, the Angels (469) and Orioles (468). Their 20 DL moves are eight more than the also unlucky (but not nearly so) Angels.
It's such that Daniels said they are reviewing the possible causes, though admittedly some of the injuries -- a lot really -- can be filed under the heading "rotten luck." Even the winter's rest time triggered pain.
Holland is expected back in July after a winter knee injury said to be suffered while tripping over his dog and falling down stairs at home. Outfielder Engel Beltre broke his leg when being hit by a pitch. Joe Saunders suffered a fractured ankle on a comebacker in his Rangers debut. Young pitcher Joseph Ortiz broke his foot at winter ball when a motorcycle over it.
Middle-of-the-order import Fielder, who used to hardly ever miss a game, needed season-ending neck surgery. (The rare good news is, the long-term prognosis is excellent.) The Rangers and Tigers exchanged medical information on the players in the offseason blockbuster that sent Ian Kinsler to Detroit, but even that may have seemed like overkill since Fielder never had never so much as received treatment for his neck, back or other surrounding areas that would have caused a red flag.
They've taken some heat for not requiring a personal medical exam, but Fielder passed the spring test, and cervical MRIs aren't routine to those exams, anyway, not for players without history. More rotten luck. Even Choo, the leadoff whiz, is playing on a bad ankle while impressing folks with his toughness.
All those injuries have hurt but what really frustrates Rangers higher-ups are recurring soft-tissue ailments suffered by surprise Opening Day starter Scheppers (a reliever pressed into action) and perennial top prospect Jurickson Profar , who will miss the year with an injury originally expected to take only a matter of weeks. By virtue of superior Latin scouting, they posses a lot of infield depth, with up-and-comers Luis Sardinas and Rougned Odor , but it's harder to trade from strength when players just keep dropping.
"We're still reviewing some different things," Daniels said of the injury causes.
Meanwhile, the injuries are taking an increasingly steep toll on the field now. The bullpen predictably is overworked at this point. The Rangers are nine games out and drifting downward.
Their resilience has been amazing, and there's time, so they'll wait before diving into big deals of the sale variety. Almost all their key players are contracted for next year, so there's no great impetus to become convicted sellers (Rios is an exception, though his $12 million team option looks like a surprise no-brainer after his resurgence this year).
"It has to be a compelling baseball deal for us to consider moving one of our [core] players," Daniels said. "We haven't given up on this year."
Asked specifically about Beltre, who's beloved around Arlington, it seems like a trade is quite a long shot. "We haven't really considered it," Daniels said. "He's our best player, team leader, Hall of Famer."
Washington's Rangers, a perennial powerhouse, should not be counted out early, to be sure, though rough finishes the past few years are the real blemishes. This year they need to get credit for just hanging in there. To still be within spitting distance of .500 is really quite an accomplishment.
"We'll keep fighting," Daniels promised.
It's amazing the fight is still in them, really it is. And don't doubt their resolve.
Only when time starts to run short will they seriously consider doing some selling. They aren't quite there yet. 
Show Comments
Hide Comments