Phillies appear to be moving closer to a Michael Young deal
Philadelphia general manager Ruben Amaro Jr. was investigating over the weekend whether Young, who has a full no-trade clause, would accept a deal to the Rangers or Red Sox. Meantime, Phillies reportedly promoting third base prospect Cody Asche for Tuesday's game against the Giants. ...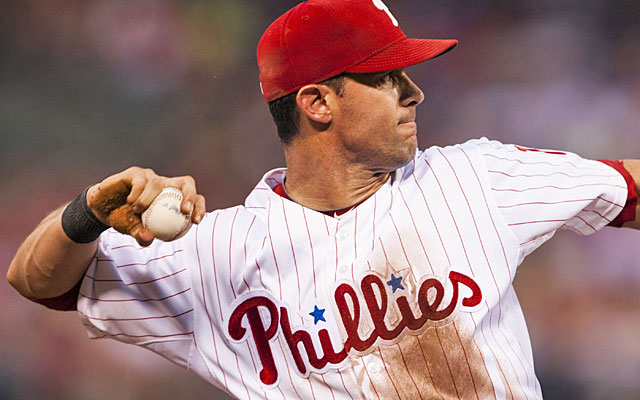 Michael Young moved on deck as the Phillies worked the trade deadline, and the infielder appears headed out of town before Wednesday's 4 p.m. ET non-waivers deadline.
As the Phillies recalled third-base prospect Cody Asche from Triple-A Lehigh Valley on Tuesday, CBSSports.com learned that over the weekend the club checked to see whether Young, who has a full no-trade clause, would be amenable to a deal back to Texas or to Boston.
Whether it's to the Rangers, Red Sox or another point unknown, Young very much appears to be a short-timer in Philadelphia.
Young spent the first 13 seasons of his career with the Rangers before Texas dealt him to Philadelphia last December. Given his affinity for the Rangers and his full-time home in the area, he surely would approve a deal back home.
Boston would be an interesting proposition. Red Sox people believe he would approve a deal there, but Ken Rosenthal of FoxSports.com reported Tuesday that Young will only approve a deal to the Rangers.
Young, 36, is batting .277/.342/.402 with seven homers and 32 RBI in 98 games for the Phillies this season. He's started 90 games at third base and two at first base.
Show Comments
Hide Comments