Phillies' Jimmy Rollins on rumors: 'I can't be traded'
Phillies shortstop Jimmy Rollins doesn't sound like he's willing to waive his no-trade clause.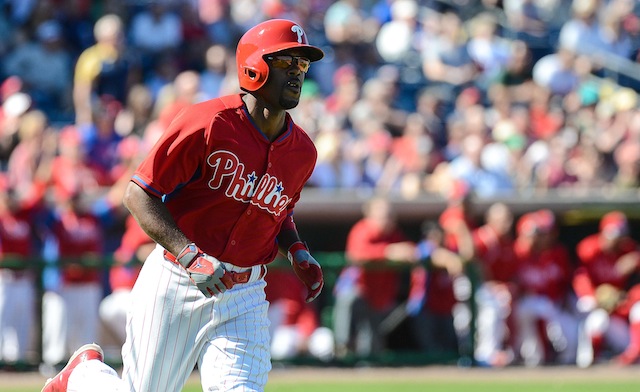 MORE: Spring Training | Scoreboard | Team previews
As recently noted in this space, Phillies shortstop Jimmy Rollins appears to be in the midst of a falling out with the organization for whom he's played his entire career. Some within the Phils want to see Rollins traded right away, but Rollins, who has full no-trade privileges by virtue of his being a 10-and-5 player, certainly sounds like he's not open to being dealt. Here are Rollins's comments on Wednesday, courtesy of MLB.com's Todd Zolecki ... 
"... I can't be traded. It doesn't matter. I don't care which way it is tried to be twisted or said, or if it is exactly how it was said, or even if it was said, I can't be traded. It doesn't matter. If I was tradable it may have weight because that means I could be moving soon. But I am not tradable and so it doesn't matter."
Rollins is right, of course. Any deal with any team would require his approval, and he sounds disinclined to give it. Often, a player with a no-trade provision will say similar things and then relent when the club that hopes to acquire him agrees to a contract extension. Rollins, however, sounds fairly emphatic. 
If Rollins does indeed remain with Philly, then things will get interesing, and not only because he and manager Ryne Sandberg seem to have an increasingly chilly relationship. It so happens that Rollins's contract includes an $11-million vesting option for 2015 that kicks in if he logs 600 plate appearances this season or 1,100 PAs across 2013 and 2014 combined. Given that Rollins came to the plate 666 times this past season, he needs just 434 PAs in 2014 in order for his option to vest. The guess is that the Phillies would rather not have that happen. Therein lies further motivation to keep Rollins on the bench once the games start counting, not that the Phils would ever admit that that's a part of their thinking. 
In any event, consider the situation fluid. As much as Rollins probably wants to put the speculation to rest, that's impossible at this point. 
Show Comments
Hide Comments