Photo of the Day: Philadelphia's Shibe Park, aerial view in 1929
Just for fun, on a slow offseason news day, check out a shot of Philadelphia's Shibe Park in 1929, from the air.
Here is yet another gem from @MLBcathedrals.
(Click on the here for a full-size version, which is highly recommended)
Shibe Park (Philadelphia) prior to a 1929 WS game. Notice the rooftop bleachers on the houses beyond RF. #Athletics pic.twitter.com/kyp2JHP68I

— Ballparks (@MLBcathedrals) November 8, 2013
I like that they mentioned the rooftop seats in right field, because we've posted on those before. Here's the picture from the 1914 World Series -- or World's Series, as it was then known: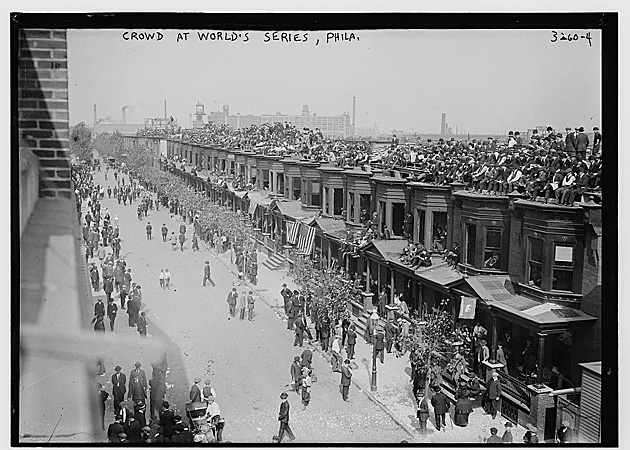 The Athletics called Shibe Park home from 1909-1954. The Phillies would play there from 1938-1970, though it was known as Connie Mack Stadium from 1953 until it was retired.
Those rooftop seats would go away, as after the 1934 season, owner Jack Shibe ordered the roof raised to almost 50 feet, frustrated by the rooftop owners piggybacking on his product (sound familiar, Chicago?). It would be called the "Spite Fence."
Show Comments
Hide Comments