Photo of the Day: The A's 'photo studio' is ... interesting
It's the time of year for official team photos, and the A's are doing it A's style.
MORE: Oakland's dueling batting cages
Spring training means the return of actual basesball, and as part of the return of actual baseball, teams take official board-certified photos of their players, possibly on pain of ridicule and termination. Typically, these photos have an "Olan Mills" tinge to things, what with the gauzy backdrops, unwilling countenances and what have you. 
As for the surroundings, I can't say whether what follows is typical or atypical, but it does strike me as being "throughly Oakland Athletics in conception and execution." Take it away, Yoenis Cespedes ...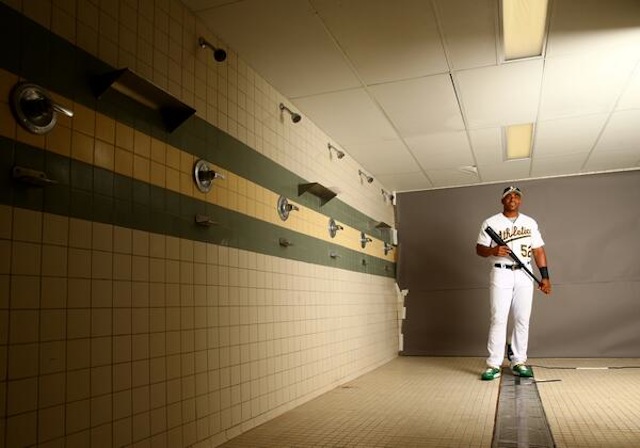 Your eyes do not deceive: The A's, you see, are taking player photos in the shower and or stink lodge. We are all the better for it. Although perhaps Mr. Cespedes is not.  
(Wink of CBS eye: Eric Kay, thinking-man's pugilist)
Show Comments
Hide Comments
Our Latest Stories
Kazmir will begin the season on the DL

Tebow struck out twice against Scherzer and got a taste of an elite fastball

It seems unlikely Las Vegas will be atop MLB's list of destinations whenever they expand or...
The Raiders are moving to Las Vegas, but the A's remain committing to staying in Oakland.

Canseco is joining NBC Sports California to provide Athletics coverage this year

Mike Trout played a little prank on the Angels former pitching coach with the help of his...