Photo of the day: Tim Lincecum rocks a thin mustache
Tim Lincecum has an odd-looking headshot for this upcoming season.
More photos: A's studio is in the showers | A's dueling batting cages
Early in the spring is the time when each team gets a set of photos taken of each individual player. Often, these photos include a headshot that'll be used in stadiums throughout the season.
Sunday, this tweet caught my eye:
Oh and by the way Tim Lincecum didn't shave his mustache for photo day so you'll see that thing on the scoreboard all year long.

— Andrew Baggarly (@CSNBaggs) February 23, 2014
So I headed over to Getty Images to survey the scene, and this was what a Tim Lincecum search turned up: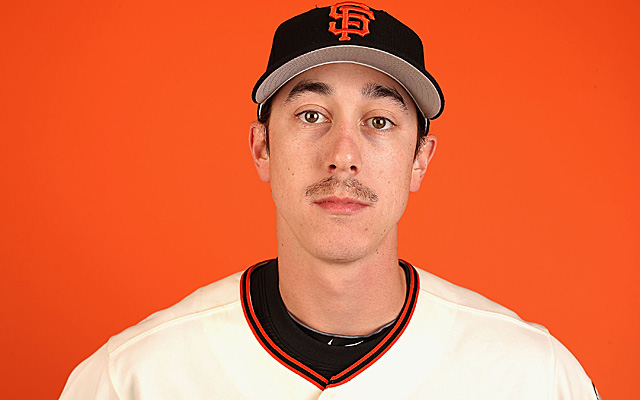 This wasn't an accident. Lincecum knew it was photo day. Rock on, Timmy.
Show Comments
Hide Comments
Our Latest Stories
It also works if you appear during a television broadcast

They call it the 'Triple Play'

This year is the 25th anniversary of the classic episode 'Homer at the Bat'
O's VP John Angelos is the son of team owner Peter Angelos

The sense of urgency in D.C. is the highest in MLB, but they might be in position to do something...