PHOTO: Rice University's alternate jerseys are pretty cool
Check out these Rice U. uniform tops, which seem to take cues from the Cardinals.
MORE: Spring Training | FA tracker: position players | FA tracker: pitchers
The Rice Owls are 15th in Baseball America's most recent college baseball rankings, but in the unofficial category of Alternate Jerseys That Elicit Highest Levels of Aesthethic PleasureTM, they perhaps top the loop. Please witness said alternate jersey, but only after girding yourselves for emotional baseball uplift ...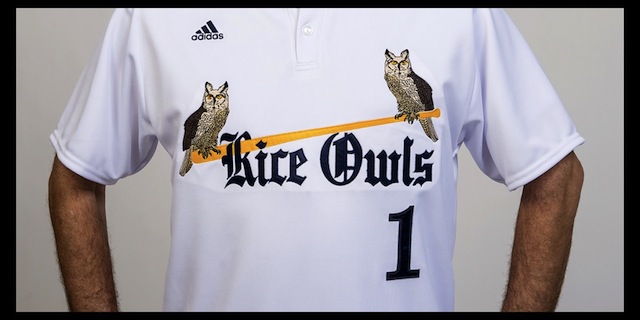 (Image: The Birdist)
Yea, verily!
I break no news when I point out that this crackin' good design owes more than a little something to the Cardinals and their iconic "birds on the bat" logo. Nothing wrong with a little creative "sampling," though.
Nicely done, Fightin' Owls. 
Show Comments
Hide Comments
Our Latest Stories
Epstein's initial contract was set to expire after this season

The heartbreak continued Wednesday with Fernandez's family and teammates on hand

Of course, Ventura still has to decide if he wants to return as manager
The hill will be eliminated from the playing surface at Minute Maid Park before next seaso...

The Hall has been honoring MLB's permanent ban of Rose for gambling on games

Let's have a little fun in the final week of the season, shall we?