PHOTO: The Bill Veeck 'bobble-leg' is outstanding
The minor-league Charleston River Dogs on Saturday night gave away one of the best bobbles you'll ever witness.
More MLB: Power Rankings | Expert Picks | Latest news & notes | Fantasy news
As recently noted in this magnificently appointed space, the Sally League's Charleston RiverDogs on Saturday night paid homage to Disco Demolition Night. As part of the festivities, they handed out bobbleheads of the buccaneering genius who oversaw Disco Demolition and so many other, more successful promotions: Bill Veeck. 
There's a wrinkle here, though. Regard this SABR passage on the military service of Mr. Veeck ... 
He joined the Marines after the 1943 season. The next spring he was stationed on the Pacific island of Bougainville when the recoil of an anti-aircraft gun smashed his right leg. He spent the rest of the war in hospitals.
As a consequence of that accident, Veeck had a wooden leg for the rest of his life. He famously had an ashtry installed in said wooden leg, which is rather industrious when you think about it. I'm not going to suggest that having an ashtray put in your wooden leg is one of the most inspired ideas in the sprawl of human history, but I'm also not going to suggest that it isn't. 
In any event, that leads us to this, which is the Charleston RiverDogs' Bill Veeck bobble ... leg!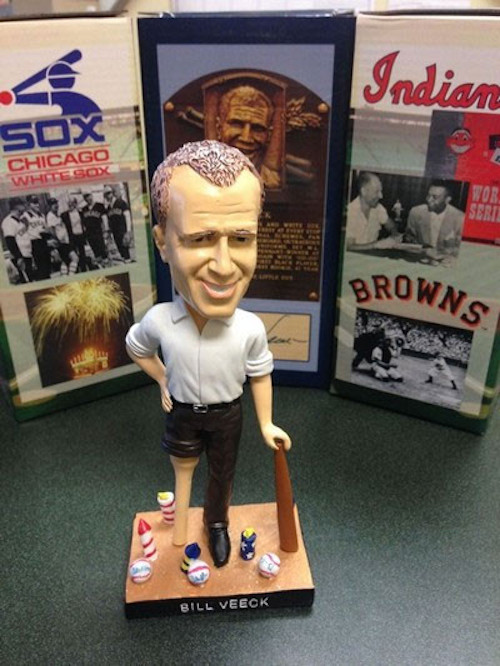 (Wink of CBS eye: @Go_GoSox)
Though I'd prefer a visible rendering of the embedded ashtray, this is just about perfect. 
Now, off to Ebay ... 
Show Comments
Hide Comments