Photographic evidence that Nelson Cruz won't be back in Texas
If the Shin-Soo Choo's contract wasn't proof that Nelson Cruz won't return to the Rangers, then Shin Soo Choo's jersey certainly is.
MORE: FA tracker: position players | FA tracker: pitchers
The Rangers' signing of outfielder Shin-Soo Choo to a seven-year, $130-million contract became officially official on Friday. That pricey arrangement was, of course, hard proof that incument Rangers outfielder Nelson Cruz, a free agent, won't be back in Arlington. If, however, you're in need of further proof that Cruz isn't returning to Texas, then consider the following to be incontrovertible evidence ...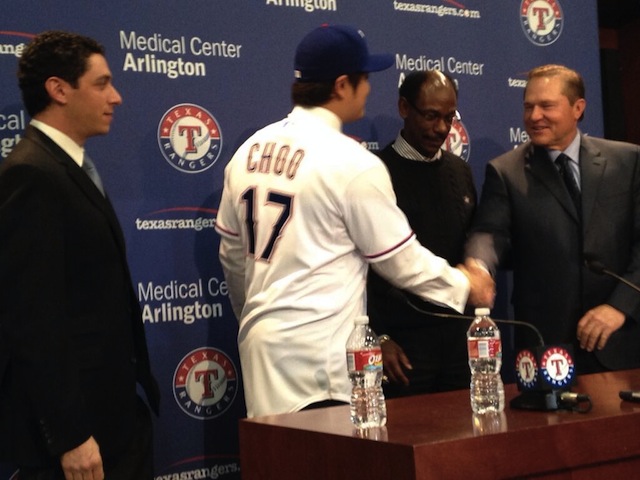 That's Mr. Choo himself, be-jerseyed and pictured shaking wealthy hands with Scott Boras. The observer will observe that Choo is wearing uniform no. 17, which, the recaller will recall, was the number worn by Cruz during his Texas days. To be fair, Choo has worn 17 since 2006, but, well, so has Cruz. In other words, if Cruz wants his old number back, then he'll need to go elsewhere. Which he will. Which we knew. So there. 
(Wink of CBS eye: Richard Durrett)