Picking a captain for every MLB team
The Mets are poised to name David Wright their captain before opening day, but what if every team had to name a captain?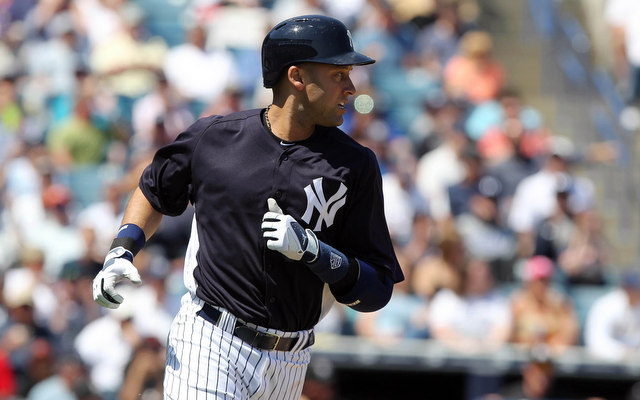 Earlier on Monday, we learned the New York Mets are likely to officially name David Wright their team captain before opening day. They would become just the third team with an active captain, joining the New York Yankees ( Derek Jeter ) and Chicago White Sox ( Paul Konerko ). Yeah, I'm surprised there are currently only two teams with captains as well.
Unlike hockey, where basically every team has a captain and they proudly wear a "C" on their chest, baseball teams rarely name an official captain. I'm not even sure what a captain does in baseball -- clubhouse speeches seem to be rare and nearly all veteran players take it upon themselves to look out for the youngsters. That said, being name captain is a great honor. Who would the other 27 teams name captain if they had to pick one today? Let's look:
Los Angeles Angels

: Too soon to go with

Mike Trout

? Probably.

Jered Weaver

is the obvious alternative even though

Albert Pujols

and

Josh Hamilton

are making the big bucks. Being homegrown lands him the "C."

Houston Astros

: Egads. Not many candidates here, but

Carlos Pena

stands out as an established big leaguer who knows what it's like to be a top prospect and fail before bouncing back.

Oakland Athletics

:

Coco Crisp

and

Grant Balfour

are the veteran leaders in Oakland, but it would feel like a cop-out to go with co-captains. Crisp plays everyday and gets the nod from me.

Toronto Blue Jays

: Toronto has undergone a lot of turnover, but the one constant has been

Jose Bautista

. He's the anchor of the team regardless of how flashy the new additions may be.

Atlanta Braves

:

Chipper Jones

is gone, making this a lot more difficult than it would have been a few months ago.

Tim Hudson

stands out as the "been there, done that, follow me" veteran since

Brian McCann

is sidelined following shoulder surgery.

Milwaukee Brewers

: PED allegations aside, it has to be

Ryan Braun

. Pretty easily too. I don't see another worthy candidate.

St. Louis Cardinals

:

Yadier Molina

, no doubt about it.

Chicago Cubs

: The Cubbies love

Anthony Rizzo

and I feel like he would get the nod despite being so young (23).

Starlin Castro

is actually younger (22) despite being more established and would be a fine alternative.

Arizona Diamondbacks

: In the wake of the

Justin Upton

and

Chris Young

trades, it's pretty clearly

Miguel Montero

. The catcher is Mr. Everything for Arizona.

Los Angeles Dodgers

: Despite all their stars and high-priced players, I'm thinking it would be

Andre Ethier

. Ethier has a nice big contract of his own, but he's also the longest-tenured Dodger.

San Francisco Giants

: Either

Buster Posey

or

Matt Cain

works for San Francisco. I'll go with Cain because he's been around a few years longer.

Cleveland Indians

: Lots of roster turnover in Cleveland and

Chris Perez

feels wrong given how critical he's been of ownership and stuff.

Asdrubal Cabrera

?

Justin Masterson

? Jason Giambi would be a captain candidate if he actually makes the team. 

Seattle Mariners

: Seattle didn't just make

Felix Hernandez

the wealthiest pitcher in baseball history not to name him captain, you know.

Miami Marlins

: I feel like Miami would do something weird like name

Juan Pierre

team captain over

Giancarlo Stanton

. Either way, I wouldn't sow the "C" on too carefully. Don't expect the guy to be around long.
Nationals: It will be

Bryce Harper

one day, but for now we'll go with

Ryan Zimmerman

. Being the first player ever drafted by the

Washington Nationals

franchise has its perks.

Baltimore Orioles

:

Brian Roberts

would be a good choice if he didn't get hurt all the time, so I'm going with

Matt Wieters

. Playing so many games behind the plate just screams leadership, no?

San Diego Padres

:

Chase Headley

gets the call here pretty easily. I'm not even sure who would be the runner-up.

Huston Street

?

Philadelphia Phillies

: This one is clearly

Chase Utley

for me. With all due respect to

Roy Halladay

and the team's other stars, Utley is Philadelphia baseball.

Pittsburgh Pirates

:

Andrew McCutchen

is one of the best players in the world and the heart and soul of the Pirates. He's the easy choice.

Texas Rangers

: Hamilton and

Michael Young

are gone but

Adrian Beltre

remains. He's their best player on both sides of the ball and has all the necessary veteran-ness.

Tampa Bay Rays

:

Evan Longoria

is the easy answer, but I like

Ben Zobrist

for the captaincy. He's in the lineup everyday and will play whatever position necessary. Hard not to appreciate that.

Cincinnati Reds

:

Brandon Phillips

comes off as more outspoken than

Joey Votto

, but then again Jeter isn't the most vocal person in the world. Leading by example is still leading. Votto it is.

Boston Red Sox

:

Jason Varitek

retired prior to last season and

Dustin Pedroia

is the obvious successor.

David Ortiz

is an icon in Boston and would make a fine captain, but Pedroia is my choice.

Colorado Rockies

: With all due respect to

Todd Helton

, it's got to be

Troy Tulowitzki

here. Here's their best player, their highest-paid player, their most popular player ... all of that says captain.

Kansas City Royals

: Not an obvious captain candidate here, but

Jeff Francoeur

sure does get praised for his leadership quite a bit.

Detroit Tigers

: Lots of quality choices here, but I'll go with

Justin Verlander

.

Miguel Cabrera

and

Prince Fielder

are captains on most other teams, but it's the big right-hander who sets the stage for the rest of the club.

Minnesota Twins

:

Joe Mauer

. End of story.
Who should be the captain of your favorite team? Someone different than the player listed above? Tell us about it in the comments.
For more baseball news, rumors and analysis, follow @EyeOnBaseball on Twitter, subscribe to the RSS feed and "like" us on Facebook. Also, individually interact with us on Twitter: @MattSnyder27, @daynperry and @mikeaxisa.

Show Comments
Hide Comments