Pirates' Andrew McCutchen named NL Most Valuable Player
After leading the Pirates back to the postseason, Andrew McCutchen has been named the NL MVP.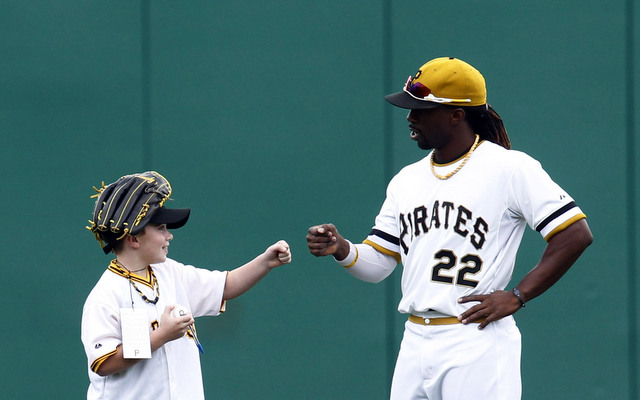 MORE: EOB picks McCutchen as NL MVP
Pirates center fielder Andrew McCutchen has been named the NL Most Valuable Player after leading his club to the postseason for the first time in two decades. He received 28 of 30 first place votes to beat out second place Paul Goldschmidt and third place Yadier Molina.
McCutchen, 27, hit .317/.404/.508 (158 OPS+) with 21 home runs, 27 stolen bases and 84 RBI this past season. He finished second in the circuit with 8.2 WAR and was among the league's top seven in batting average, on-base percentage, slugging percentage, stolen bases, runs (97), hits (185), total bases (296) and extra-base hits (64). The guy was a monster for the Buccos.
McCutchen is the first Pirates player to be named MVP since Barry Bonds in 1992. Dick Groat (1960), Roberto Clemente (1966), Dave Parker (1978), Willie Stargell (1979) and Bonds again (1990) have also won MVP while playing for Pittsburgh.
Molina received the other two first place votes. The full voting results are available at the Baseball Writers Association of America website.
Show Comments
Hide Comments