Pirates clinch a winning season, but the NL loses again
Is there still a gap between the leagues? Interleague play suggests there is. The AL needs just one more win to clinch a 10th straight winning season.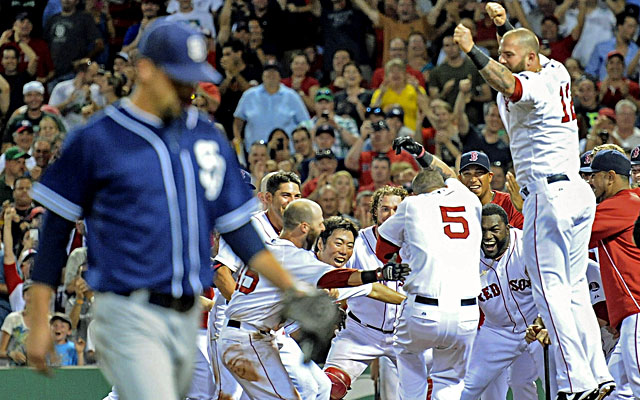 The Pirates got their 82nd win.
Soon enough, the American League will get its 151st.
The Pirates ended a string of losing seasons that dated back 20 years. The AL is about to extend a string of winning seasons that has now gone a full decade.
National League fans can point to three straight World Series titles, but American Leaguers remain convinced that their league is stronger.
"It's not even close," one AL coach said the other day.
The numbers suggest it's a little closer than it once was. Seven years ago, AL teams won more than 60 percent of their interleague games. This year, with 16 games still to go, the AL holds a 150-134 (.528) advantage.
The next AL win will clinch the series, but the AL's .528 winning percentage so far would be the second-lowest since 2004, the first year of the AL's current about-to-be 10-year winning streak.
Baseball changed the schedule format this year, after moving the Astros from the NL to the AL to create two 15-team leagues. With an odd number of teams in each league, interleague play had to extend throughout the season, with at least one interleague series going on at all times.
The format for interleague play was rationalized, and the number of interleague games increased, from 252 the last few years to 300 this year.
The AL still holds the edge (even while taking on an Astros team that has baseball's worst record and is headed for a 100-loss season). Eight of the 15 AL teams have winning records against the AL, and a ninth (the Angels) finished 10-10.
The biggest gap has come in the matchup between the AL East and the NL West, where the AL holds a 43-32 edge (mostly because the Red Sox are 11-3). The AL Central is 40-37 against the NL East, while the AL West is 36-36 against the NL Central. AL teams finished 31-29 against their "prime rivals."
The four games against "prime rivals" (Yankees-Mets, Cubs-White Sox, etc.) will be played every year, with the only difference in 2014 that they won't all go on at the same time. The division vs. division games will rotate from year to year.
Next year, the NL East plays the AL West, the NL West plays the AL Central and the NL Central plays the AL East.
Perhaps the changing matchups will matter. More likely they won't.
For now, the evidence is fairly clear. For now, the American League remains the stronger league.
We'll let you decide if it's "even close."
Show Comments
Hide Comments