Pirates clinch first playoff spot since 1992
For the first time since 1992, there will be October baseball in Pittsburgh.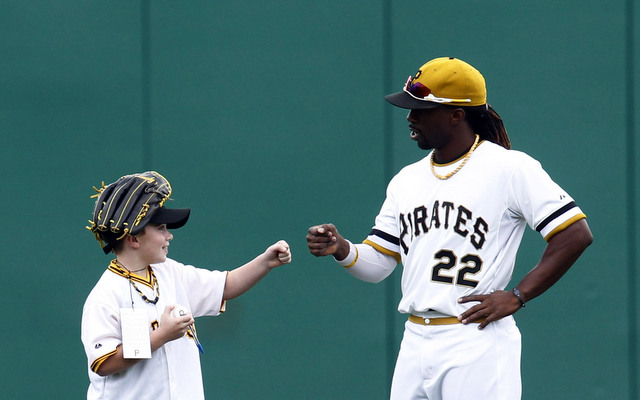 More: Knobler: Pirates' berth should end tension between front office, owners
For the first time since 1992, the Pirates are going to the postseason. Their 2-1 win over the Cubs combined with the Nationals 4-3 loss to the Cardinals clinched a playoff spot for Pittsburgh. The Cardinals, Braves, Reds and Dodgers have all punched their postseason ticket as well, so the five-team NL field is set.
The Pirates snapped their 20-year streak of losing seasons earlier this month, so these last few weeks have been pretty special for the Pittsburgh nine. The last time the Pirates went to the playoffs, their best hitter was Barry Bonds and their best pitcher was Doug Drabek. Yeah, the times have changed.
Like that 1992 squad, the 2013 Pirates also have one of the very best players in the world in Andrew McCutchen. The center fielder is both a legitimate NL MVP candidate and the franchise's best all-around player since Bonds. Slugger Pedro Alvarez backs up McCutchen with serious power from the left side. Coming into Monday, the team averaged just 3.88 runs scored per game, which is more or less league average.
Thankfully, the Pirates boast a deep pitch staff that averages just 3.62 runs allowed per game. That's the second best mark in the NL. Veterans A.J. Burnett and Francisco Liriano have led a staff that includes Charlie Morton (returning from Tommy John surgery), All-Star Jeff Locke and rookie Gerrit Cole. Jason Grilli, Mark Melancon, Tony Watson and Justin Wilson headline a dynamite relief corps. It'll be the pitching staff that carries the Bucs in October.
With the Nationals losing to the Cardinals, the Pirates are tied with the Reds and just two games back of the Cardinals for the top spot in the NL Central. Obviously winning the division and avoiding the winner-take-all wild-card game is preferable, but Pittsburgh now knows they are going to the playoffs one way or the other.
Show Comments
Hide Comments