Pirates head west looking to prove they're all about sustainability
Tantalizingly close to their first October in two decades, Clint Hurdle's Pirates are looking to shake off the past 10 days and finish off a memorable season in high style. In first place in the NL Central throughout August, the Bucs say their success is sustainable. ...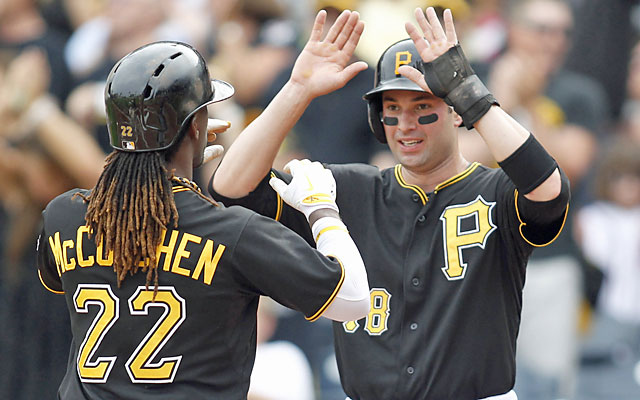 SAN DIEGO -- The word you're no doubt looking for when it comes to the Pirates right now is not "aaargh" or "rum" or "yo ho ho." Because these Pirates are well beyond their cartoonish ways of the past two decades.
No. As they work to put a rough 10-day stretch behind them and continue constructing baseball's best story in 2013, there is another word you're undoubtedly thinking of right about now. The one that easily rolls off manager Clint Hurdle's tongue.
"Sustainability," the skipper says.
Yes. That's it.
Following back-to-back late-season collapses over the past two summers, and with seven losses in nine games as they opened a crucial seven-game West Coast trip here Monday night, all any baseball romantic looking for a great autumn story from these Pirates is looking for is a little sustainability.
Quick tip: That's exactly what Hurdle and Pirates brass were searching for last winter when they scripted a rotation for 2013 that went 15 deep, revamped their bullpen plans and retooled their approach to opponent running games.
"Every part of our [plan] was to look for sustainability in all areas of our game," Hurdle says. "You hear it around here all the time, get just a little bit better today than we were yesterday."
So, here they go. Andrew McCutchen, seems like he's on base every time he steps to the plate. There may be an MVP in his future. Pedro Alvarez started the week tied with Arizona's Paul Goldschmidt for the NL lead with 30 homers. Starling Marte led the majors with 79 runs scored from the leadoff slot in the lineup.
"We've got some guys who are seasoned now," McCutchen says. "It's not a bunch of new guys anymore.
"We're definitely a lot better than we've been, not only physically, but mentally."
Of that, McCutchen has zero doubts. He points to Sunday's 16-inning loss to the Diamondbacks and says that game would have broken previous Pirates teams.
He promises it won't break this year's Pirates.
Given that they were tied with the Dodgers for the third-best record in the majors (72-51), the tendency is to believe him.
But not because of any measurement of how tough Pittsburgh is mentally.
Because the Pirates have pitching depth that they haven't had before.
Yes, there is concern regarding All-Star lefty Jeff Locke, just 25, who was cuffed around Saturday by the Diamondbacks. His sparkling 2.15 pre-break ERA has blown up into a 5.58 ERA since the All-Star break.
Starter Wandy Rodriguez has been out since early June with forearm tightness (the Pirates hope to get him back in September). Closer Jason Grilli has been out since July 23 with a forearm strain (the Bucs hope to get him back in early September).
But Francisco Liriano is dealing (tied for third in the NL with 13 wins) and Mark Melancon leads all NL relievers with an 0.78 ERA.
"Throughout the whole organization, we have some good depth," Melancon says, before deadpanning: "Don't get me wrong. We'll be excited to get [Grilli] back."
The Pirates have used 11 starters so far this season, four short of the 15 they mapped out this spring. Hey, not that they want to get all the way to 15. But after taking a look at the rough finishes of 2011 and 2012, they made contingency plans.
"We scriped down 15 starters we felt if push came to shove who we envisioned we'd be able to go to through the course of the season based on our own development, external acquisitions whether they were minor league free agents or major league free agents, that type of secenario," Hurdle said. "Knowing we have a Gerrit Cole, a Locke, knowing toward the end of the season we would bring up pitchers. …"
He talks of an "incubation period" that is different from the straight September call-ups. When Hurdle was managing Colorado, he watched starter Jason Jennings and shortstop Troy Tulowitzki flourish when their development was expedited by an early taste of the majors. This is why Locke was summoned to Pittsburgh last May and then again on Aug. 8.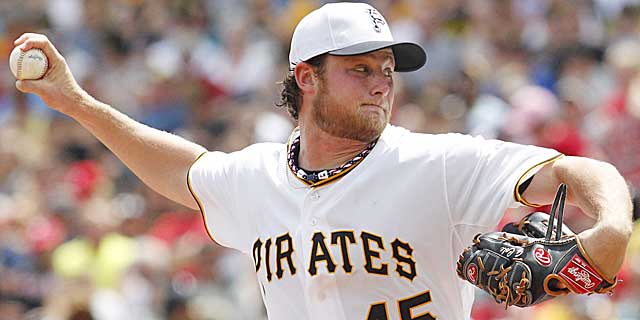 It's why Cole was summoned this summer on June 11, both to help this year's club and as part of his development program.
Another key in the development program: Pitching coach Ray Searage, who, like Hurdle, is in his third full season. The two of them, together with Jim Benedict (special assistant to the general manager), Scott Mitchell (minor-league pitching coordinator), Euclides Rojas (bullpen coach) and, of course, GM Neal Huntington, revamped several pitching-related things over the winter.
"Areas we felt we were not at championship-level execution or caliber last year," Hurdle says. "Soft spots.
"Our ability to use our fastball on both sides of the plate had to be ramped up dramatically. Pitch in to get strikes, pitch off the plate to eliminate comfort at times. We also had to isolate our ground-ball areas better so we know with every hitter where we ca go just based on the metrics, and where is the greatest opportunity to get ground balls in ground-ball situations."
And: "Controlling the running game was as important as anything we did. We were the worst in baseball last year. That didn't just fall on the catchers, it fell on the pitchrs, too.
"That program was completely ripped up and thrown away, and a new one was put in in spring training."
Now you see Pirate pitchers employing more pickoff throws to their advantage. Holding the ball a beat or two longer before delivering it to the plate with a runner on base. Anything to slow down rivals.
The improvement is noticeable: Where opponents were successful on 89 percent of their stolen base attempts last summer, highest in the NL, Pittsburgh has whittled that down to 67 percent this summer, seventh in the league.
Under Hurdle and Searage, Pittsburgh pitchers have improved their NL rank in ERA over the past three seasons from 11th to eighth to second. And they've improved in WHIP from 15th to eighth to third.
And as far as their attention to the ground ball in 2013, the Pirates' staff ranks tied for fourth in the NL by inducing 101 grounded-into-double plays this year. They were third in 2011 with 130 before slipping to 10th last year with 111.
Ground balls are sustainable. So, too, are double plays, good pitching and McCutchen's MVP-caliber play.
Can the Pirates do it?
Will they do it?
"We need to get back on track," Melancon says. "We know that if this is the worst time we go through all year, we'll be all right."
Rodriguez threw a bullpen session Monday as his comeback continued. Grilli played catch from 120 feet.
And that's the other thing about these Pirates: They should only get stronger in September.
"It's been fun," catcher Russell Martin says. "Coming in, I didn't know a whole lot about these guys. I knew some of them.
"It was like discovering something awesome."
That's still the thing about these plucky Bucs: For the first time since 1992, sustained awesomeness remains achievable.