Pirates replace Mark Melancon with Jason Grilli as closer
No telling yet whether the move will be temporary or permanent, but Pittsburgh manager Clint Hurdle said Saturday that Jason Grilli will get the next save opportunity after Mark Melancon's rough 72-hour span. ...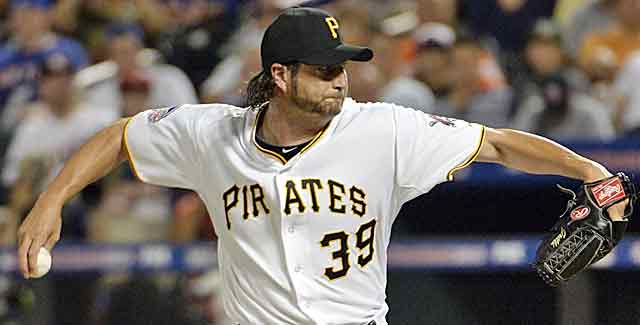 PITTSBURGH – The Pirates' bullpen ERA of 2.88 ranks second to the Braves (2.42), and Pittsburgh is tied with Atlanta for the league lead at 51 saves. The Shark Tank, as the Pirates' pen has become known, is one enormous reason why Pittsburgh is looking at postseason play for the first time in two decades.
But suddenly things have spun off kilter, and now the Pirates will look to old closer Jason Grilli, and not Mark Melancon, if there is a save situation against the Reds on Saturday night.
Beyond that? Too soon to say for sure what will happen.
Manager Clint Hurdle and pitching coach Ray Searage spoke with both pitchers Saturday afternoon following the roughest 72 hours of the season.
"I'm taking it one day at a time right now," Hurdle said Saturday afternoon. "Jason's going to throw. I think he's at the point where he can go back-to-back days, he very well might be. I think he is.
"I'll worry about tomorrow when it gets here. We'll focus on tonight."
On Friday night, Melancon was charged with a blown save when, one out from preserving what would have been a 5-2 win over the Reds, shortstop Jordy Mercer's throwing error led to a devastating defeat.
On Wednesday night, just after Andrew McCutchen's two-run home run (after getting the green light on a 3-0 pitch) put the Pirates ahead of the Padres 2-1 in the seventh inning, Melancon surrendered two runs in the ninth to lose that one, too.

"Mark's a great guy for attention to detail," Hurdle said. "He stayed and he watched the tape last night. Ray and I chatted with him this afternoon and told him that tonight we're going to back away.
"We talked about the sequence of events and continued to stress what are the facts, not feelings. Here's the pitches. Because it's not like balls are ringing in the alleys, balls are going to the wall. Balls are finding grass."
The Pirates are not overly worried about Melancon's pitches, because both the Padres and Reds did more chipping away at him than clobbering of him. Devin Mesoraco beat him on a stirring eight-pitch at-bat Friday night, on a single off of third baseman Pedro Alvarez's glove following four foul balls.
They just think his pitches haven't been as sharp in the locations he needs to put them.
"Time not to reinvent, but to refine, to adjust," Hurdle said.
Even at that, there isn't much time left.
As for Grilli, has hasn't had a save since July 21 -- at Cincinnati -- after suffering a right forearm strain. At the time, he was leading the NL with 30 saves.
Show Comments
Hide Comments
Our Latest Stories
Hosmer is one of many Royals nearing free agency

Niese isn't that far removed from being useful

Your feel-good moment of the college baseball weekend
The Union head weighed in on the ongoing drama between the Yankees and one of their star r...

The Red Sox youngster said he was going deep and he did on the first pitch

Jason Heyward's new swing, the health of the Mets' rotation and more question marks for NL...