Pittsburgh wakes up as a baseball town, and you can hear it (and feel it)
The Pirates don't have their 82nd win yet, but it's coming. Already, they've woken up a baseball town that had slept through 20 bad years.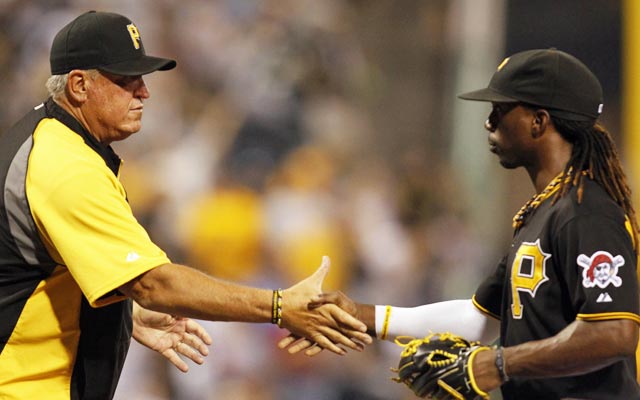 PITTSBURGH -- We measure progress by looking at the standings, for sure. But we measure it by looking at the stands, too.
We count wins, but we also count tickets. And T-shirts. And noise and excitement in a ballpark that has never seen a September like the one about to unfold here.
So yeah, it'll be something of a big deal when the Pirates push past 81 wins, officially ending the longest string of consecutive losing seasons in American sports. It'll be a big deal when they clinch a spot in the postseason, and an even bigger deal if they end up hosting October baseball in perhaps the best setting for a ballpark in the majors.
But all those milestones, as impressive as they sound, as important as they are, still seem to understate what's going on.
"I feel like Rip Van Winkle," former Pirates pitcher and longtime broadcaster Steve Blass said Friday. "I was asleep for 20 years, and I woke up to good baseball."
This baseball town fell asleep, not long after a Game 7 that ended with Sid Bream sliding home and sending the Braves to the 1992 World Series. And now it has woken up, woken up to a sea of black and gold Pirates shirts, to a September where baseball can coexist with football and perhaps even overshadow it.
Friday night, the first night of the high school football season around here, the Pirates and Cardinals battled for first place in the National League Central before a sellout crowd, the Pirates' 16th sellout this year. Saturday, when Penn State opens its season, PNC Park will be sold out again.
And Sunday, the Pirates won't just prove that they really can play a meaningful game in September, but they'll prove that they can sell out an entire series on the weekend when football is supposed to begin taking over this region.
But this isn't just about tickets sold. It's about enthusiasm, and perhaps about belief.
Pirates fans were understandably cautious after two seasons that began well and ended in terrible disappointment. Even now, you hear some sounds of concern when the Pirates lose two or three games in a row, some talk about a collapse.
For the most part, though, they're drowned out by the sounds of celebration.
"We always said it would be a carnival if we had a team to match the building," Blass said.
The team is far from perfect, and to be honest the Pirates should still be considered an underdog in their race with the Cardinals (or three-way race with the Reds and the Cardinals) to win the NL Central. But with a solid rotation fronted by Francisco Liriano, A.J. Burnett and Charlie Morton (and also including impressive rookie Gerrit Cole), a bullpen soon to be fortified by the return of closer Jason Grilli and a lineup boosted by the trade for Marlon Byrd, the Pirates don't look like the collapsing type.
"Nothing's broke," manager Clint Hurdle said Friday afternoon, before a 5-0 Pirates win over the Cardinals that left the two teams tied atop the division standings. "Can some things be improved on? Absolutely. . . . We're pleased. We're not satisfied. We've got some more work to do."
Hurdle is in just his third year with the Pirates, but he knows the history, and he understands the significance of what is happening with this team and this city.
"I put my kids on the school bus, and it was easier to count the kids without Pirates gear," he said. "The bus driver said, 'You have no idea. It wasn't like this before.'"
People in other cities might want to point out that the Pirates still rank just 12th in the 15-team National League in average attendance. Fair enough, but none of those fans had to endure two straight decades without a shred of hope.
"You win, they're going to come," said Andrew McCutchen, the Pirates' best -- and most popular -- player. "Everyone wants to say they're a part of it."
McCutchen wanted to be a part of it even before the winning really began, signing a $51.5 million, six-year contract in the spring of 2012, when the Pirates were coming off a seventh straight 90-loss season.
"The day he signed, both of us talked about how we were making a commitment to each other," general manager Neal Huntington said. "He's certainly done his part, and we've worked to put quality players around him to be a good team."
As good as McCutchen is, Huntington measures the Pirates' progress by noting the number of non-McCutchen jerseys he sees in the crowds at the ballpark, and on the streets around town.
Everyone associated with the Pirates, from the players to the broadcasters to the front office, speaks of seeing and hearing the fans around town, the people who have caught on to baseball again.
"The city's been waiting for this," Grilli said. "It's awesome to see that we've changed the culture."
Blass, in his 54th year with the Pirates, is as caught up with it as anyone. He spoke about how excited he was to get to the park Friday, and about the range of emotions he expected to feel and to pass on to listeners as the Cardinals series developed.
"This weekend might be as high energy as any weekend we've had," he said.
There's more ahead, as they all realize. The Pirates tied the Cardinals for first place on Friday night, but they also recorded their 78th win. The 81st and 82nd wins, the ones that guarantee first a non-losing season and then a winning one, are close enough now to sense them.
The wins that will guarantee a playoff spot are a little further away. The Pirates began play Friday with 29 games on the schedule, and with an 8 1/2-game lead over the Diamondbacks, who right now are first among the teams outside the playoffs looking in.
"You can knock two of those demons away, with a winning season and then postseason play," Blass said. "And, dare we say it, starting a game with snow flurries."
He was talking late October. He was talking World Series, without actually saying the words.
It's funny. When Pirates owner Bob Nutting said this spring that winning a World Series was the only goal that really mattered, plenty of people scoffed. Plenty of people laughed.
"How about winning more games than you lose?" one CBSSports.com columnist wrote (yes, that would be me).
But the Pirates aren't the first team to prove that change can come fast. The Twins and Braves went worst-to-first back in 1991, the Tigers went from 12 straight losing seasons directly to a World Series in 2006, and the Rays went from no winning seasons at all to a World Series in 2008.
We can't know yet if that's happening here. We do know something special is going on.
We see it. We hear it.
We sense it.
"I don't care if it's taken 20 years," Blass said. "It's here now."
Yes, it most certainly is.
Show Comments
Hide Comments
Our Latest Stories
The retired slugger told some Miami students as much

The 24-year-old infielder is coming off a breakout 2016 season

A potential base-running blunder by Yankees outfielder Aaron Hicks turns into a master act...
The Detroit slugger will open the season on the disabled list

The Rays signed Wilson Ramos over the winter. Now they've added Derek Norris

Moncada discovered Twinkies at Walmart after leaving Cuba and eats up 85 a week