Playing Mike Napoli at third base is 'being thought of' by Red Sox
The Red Sox are trying to figure out a way to keep Mike Napoli's bat in the lineup, even if it means playing at a position he's never played before.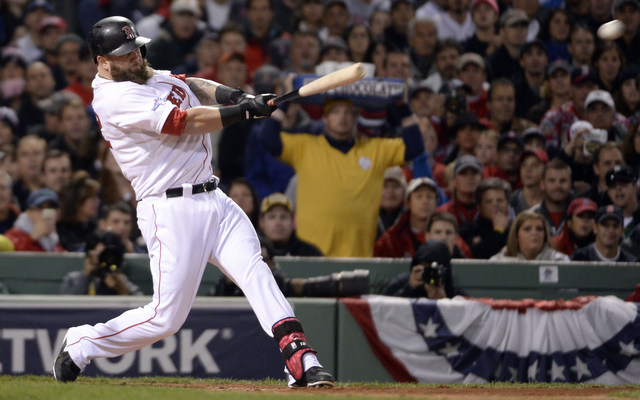 With no DH available during Games 3-5 of the World Series at Busch Stadium in St. Louis, the Red Sox are playing David Ortiz at first base and leaving Mike Napoli on the bench. There's only room for one of the two at first base.
Napoli, however, took ground balls at third base on Saturday and could wind up there later in the series. The team wants to figure out a way to keep his bat in the lineup.
"It's being thought of," said Napoli when asked about possibly playing the hot corner. "Not tonight, but it's an option."
The 31-year-old Napoli has never played a position other than catcher or first base in the big leagues. A degenerative hip condition -- not to mention unfamiliarity with the pitching staff -- prevents him from getting behind the plate. He did play three games at third base in the minor leagues nearly 10 years ago.
The Red Sox are currently playing rookie Xander Bogaerts at third, but he is just 1-for-7 with four strikeouts in three games as the starter. Will Middlebrooks played his way out of the lineup by going 4-for-23 (.174) with nine strikeouts in his first eight postseason games.
I'm guessing Napoli only winds up at third base in an emergency, say if Bogaerts doesn't start hitting and Boston finds themselves down three games-to-one in the series heading into Game 5. Even then, they might be pushing it. Doesn't hurt to keep options open though.
Show Comments
Hide Comments