Police: Tanner Scheppers was involved in fight, not 'blindsided'
Saturday, Rangers reliever Tanner Scheppers said his ongoing headache was due to being sucker-punched while getting dinner in Cleveland. There's much more than meets the eye, though.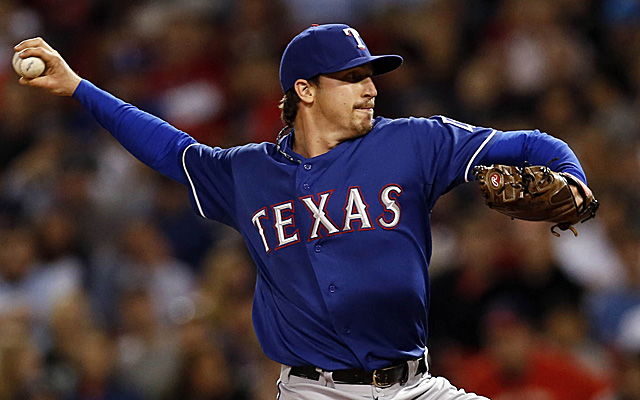 More MLB: Scoreboard | Standings | Probable Pitchers | Sortable Stats | Odds
So remember the story Saturday of Rangers reliever Tanner Scheppers getting jumped in Cleveland and "sucker punched?" Yeah, it appears there was a reason that he didn't file a police report: Because he was actually involved in what sounds like a good ol' fashioned bar fight.
The Cleveland Police Department released a statement to media members Sunday afternoon via email. Here it is (via MLB.com):
The preliminary investigation reveals that on Friday, July 26, at approximately 2:30 a.m., Texas Ranger pitcher Tanner Scheppers was involved in a physical altercation at Panini's Bar, located on W. 6th Street.

Further investigation reveals that the altercation was called in by Downtown Alliance workers, and that Third District officers responded to the scene to investigate. Once on scene, officers attempted to get information from Scheppers for a report. However, he refused to provide information and refused to make a police report. Further, officers called for EMS, and he refused medical attention and EMS was disregarded. The officers then conveyed Scheppers and another male to the Rangers' team hotel.

There is nothing further at this time.
The Rangers have, in turn, released a statement of their own:
Following today's reports, the Texas Rangers are in the process of investigating the incident involving Tanner Scheppers on Thursday night. The club has been in contact with officials from the Cleveland Police Department and the Cleveland Indians. Until our investigation is complete, no one from the organization will have any further comment on this matter.
Scheppers initially told reporters he was "just getting food and got blindsided." It is possible that he was simply getting something to eat at 2:30 a.m. instead of actually getting in a bar fight, I suppose, as baseball players keep weird hours and MLB.com noted the Rangers arrived in Cleveland at around 10 p.m.
However, there is this: Clevescene.com reports that it spoke with a witness. The witness pegged the location and 2:30 a.m. time before the police issued a statement, so that lends credibility to it. Here's the quote:
"He lost a bar fight," says the witness. "He had 10 chances to walk away before this happened."
Said witness also said that Scheppers was with Joe Nathan and A.J. Pierzynski.
Scheppers, 26, has a 1.70 ERA, 1.05 WHIP and 33 strikeouts in 47 2/3 innings. He missed a few days with a headache after the altercation, but threw a scoreless inning in Sunday's loss to the Indians.