Predicting MLB's awards for 2013
This week marks the announcement of the MVP, Cy Young and other major awards. What can we expect?
by

Eye on Baseball staff

• 1 min read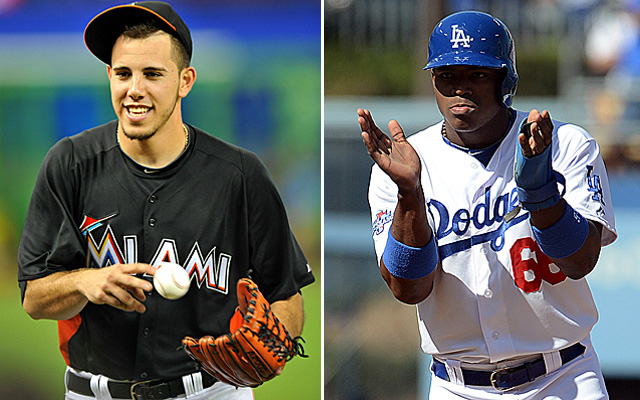 The Baseball Writers Association of America (BBWAA) is set to reveal the winners of the traditional Major League Baseball awards this coming week.
Each of the awards will have an hour-long show on MLB Network live, beginning at 6 p.m. ET.
Here's the daily schedule:
Monday: AL/NL Jackie Robinson Rookie of the Year award
Tuesday: AL/NL Manager of the Year award
Wednesday: AL/NL Cy Young award
Thursday: AL/NL Most Valuable Player award
Having three finalists for each award, your Eye on Baseball writers have decided to predict the order of finish for the top three in each individual award.
To reiterate: These aren't how we would necessarily vote. We're trying to predict how the final BBWAA collective voting body came down, based upon historical voting precedents, arguments written during the regular season from the voting body and general knowledge of how the voting body thinks.
AL Rookie of the Year
Matt Snyder predicts: 1. Wil Myers ; 2. Jose Iglesias ; 3. Chris Archer
Dayn Perry predicts: 1. Myers; 2. Archer; 3. Iglesias
Mike Axisa predicts: 1. Myers; 2. Iglesias; 3. Archer
NL Rookie of the Year
Matt Snyder predicts: 1. Yasiel Puig ; 2. Jose Fernandez ; 3. Shelby Miller
Dayn Perry predicts: 1. Fernandez; 2. Puig; 3. Miller
Mike Axisa predicts: 1. Fernandez; 2. Puig; 3. Miller
AL Manager of the Year
Matt Snyder predicts: 1. John Farrell; 2. Bob Melvin; 3. Terry Francona
Dayn Perry predicts: 1. Francona; 2. Farrell; 3. Melvin
Mike Axisa predicts: 1. Farrell; 2. Francona; 3. Melvin
NL Manager of the Year
Matt Snyder predicts: 1. Clint Hurdle; 2. Don Mattingly; 3. Fredi Gonzalez
Dayn Perry predicts: 1. Hurdle; 2. Gonzalez; 3. Mattingly
Mike Axisa predicts: 1. Hurdle; 2. Mattingly; 3. Gonzalez
AL Cy Young
Matt Snyder predicts: 1. Max Scherzer ; 2. Yu Darvish ; 3. Hisashi Iwakuma
Dayn Perry predicts: 1. Scherzer; 2. Darvish; 3. Iwakuma
Mike Axisa predicts: 1. Scherzer; 2. Darvish; 3. Iwakuma
NL Cy Young
Matt Snyder predicts: 1. Clayton Kershaw ; 2. Adam Wainwright ; 3. Jose Fernandez
Dayn Perry predicts: 1. Kershaw; 2. Wainwright; 3. Fernandez
Mike Axisa predicts: 1. Kershaw; 2. Wainwright; 3. Fernandez
AL MVP
Matt Snyder predicts: 1. Miguel Cabrera ; 2. Mike Trout ; 3. Chris Davis
Dayn Perry predicts: 1. Cabrera; 2. Trout; 3. Davis
Mike Axisa predicts: 1. Cabrera; 2. Trout; 3. Davis
NL MVP
Matt Snyder predicts: 1. Andrew McCutchen ; 2. Yadier Molina ; 3. Paul Goldschmidt
Dayn Perry predicts: 1. McCutchen; 2. Molina; 3. Goldschmidt
Mike Axisa predicts: 1. McCutchen; 2. Molina; 3. Goldschmidt