Proctor blames derailed career on 'serious drinking problem'
Right-hander Scott Proctor blames his derailed career on a 'serious drinking problem,' not overuse.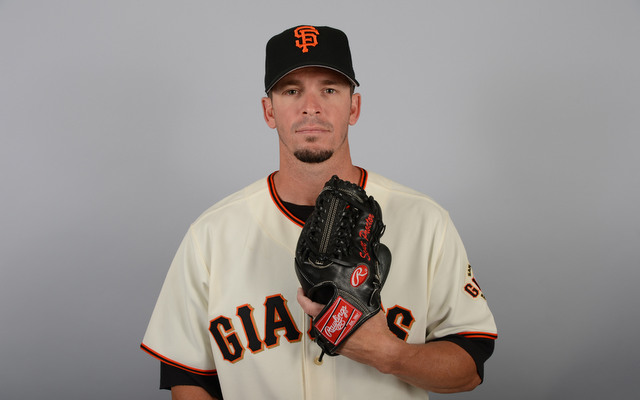 Right-hander Scott Proctor was one of baseball's most heavily-used relievers from 2006-07, appearing in 166 of 324 possible games and pitching to a 127 ERA+ with the Yankees and Dodgers. His career started to fall apart in 2008, when he pitched to a 70 ERA+ and blew out his elbow, requiring Tommy John surgery.
Proctor, now 36, is in camp with the Giants trying to win a bullpen spot. He pitched to a 57 ERA+ from 2010-11 with the Braves and Yankees, then would up in South Korea last summer. Convential wisdom says all that pitching from 2006-07 took a toll on Proctor's right arm, but that's not what he told Hank Schulman of the San Francisco Chronicle:
"I think some things that happened and some poor choices on how I lived my life led to it more than anything," he said.

Part of that was not eating right or sleeping enough, the basics of being a good athlete, but that was not the killer. He said he had a "serious drinking problem," a binge drinker who stopped when he ran out of booze or passed out.

His teammates saw it. Yankees closer Mariano Rivera was not shy about telling Proctor he needed to stop. In 2009, he said, he did stop while rehabbing after Tommy John surgery.

"Mariano had been on me a long time about just making wiser choices," Proctor said. "Then I had a bullpen coach, Steve Foster, a really good Christian guy who tried to help me make a change in my life, and thank goodness I'm married to a great woman (Carrie) who has been supportive throughout my career, through the good and bad, and I owe a lot to her."
Proctor saved 35 games with a 1.79 ERA for the Doosan Bears last year, thanks in part to a splitter that he picked up while with the Braves and mastered in Korea. So far this spring, he has thrown three scoreless innings.
The Giants value Proctor's experience pitching in the tough AL East, according to Schulman, but he is signed to a minor-league contract and not guaranteed a spot with the big-league team. Proctor said he's willing to pitch for Triple-A Fresno is necessary. 
For more baseball news, rumors and analysis, follow @EyeOnBaseball on Twitter, subscribe to the RSS feed and "like" us on Facebook. Also, individually interact with us on Twitter: @MattSnyder27, @daynperry and @mikeaxisa.

Show Comments
Hide Comments