Prospect Watch: Betts, Bradley have uncertain futures in Boston
Thanks to the team's recent additions, Mookie Betts and Jackie Bradley Jr. face uncertain futures with the Red Sox.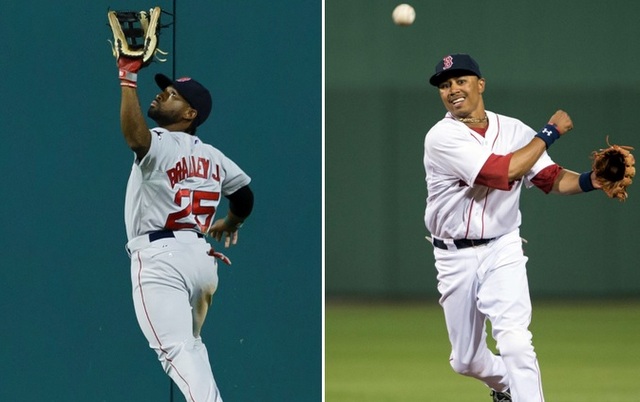 Just a few months after winning the 2013 World Series, the Red Sox were baseball's most active seller at the trade deadline a few weeks ago. Out went Jon Lester and John Lackey, in came Yoenis Cespedes, Allen Craig and Joe Kelly. There were a few other moves involving Jake Peavy and Andrew Miller, among others, as well.
Then, on Friday, the Red Sox wrapped up a seven-year contract worth $72.5 million with free agent Cuban outfielder Rusney Castillo. The deal covers the remainder of 2014, so it runs through 2020. In the span of three weeks, Boston revamped their 2015 outfield. They're in position to go into next year with Castillo in center, flanked by Cespedes and Craig in the corners.
The new-look outfield should greatly improve the team's lineup next season -- they are averaging 3.80 runs per game this year, the lowest in the AL -- but it also creates some uncertainty about the future of two of their most hyped young players.
2B/OF Mookie Betts
In 99 games split between Double-A and Triple-A, the 21-year-old Betts has hit .346/.431/.529 with 30 doubles, 11 home runs, 33 steals, 61 walks and 50 strikeouts this summer. His limited big league action hasn't gone as well (75 OPS+ in 18 games), but he wouldn't be the first top prospect to start his MLB career slowly. Obviously the hitting ability, speed and plate discipline are there.
The issue with Betts is his position. His best position is second base, but he isn't unseating Dustin Pedroia. The Red Sox moved him to center field earlier this year, though now Castillo is locked in there. Betts doesn't have the arm for third base -- by far the most open position on the team -- or the quickness for short, and besides, Xander Bogaerts will continue to get chances to show he can hack it there given his legitimate star potential. Despite all his ability, Betts is blocked in Boston.
OF Jackie Bradley Jr.
Bradley, 24, has spent most of this season as the team's everyday center fielder, but he hasn't hit a lick. Through 112 games he owns a .216/.288/.290 (63 OPS+) batting line with a 28.7 percent strikeout rate. Go back to last season and he has a career 65 OPS+ in 149 big league games, so essentially a full season's worth of playing time. The list of players with a 65 OPS+ or lower through their age 24 season (min. 400 PA) doesn't inspire much hope for a turn around.
Even though he has yet to hit, Bradley has shown he is an elite defensive center fielder, which has plenty of value. There's a chance he'll win the AL Gold Glove this year despite spending several stints in Triple-A. He's been that good. The Red Sox didn't just give Castillo over $70 million to not play center field though, so Bradley is a man without a position. If he's not playing defense in center field, he has essentially zero value to a MLB team right now.
* * *
The veteran additions free up Betts and Bradley for trades, though Bradley's value is way down and the Red Sox might not want to sell low. Combined with their bevy of Double-A and Triple-A level pitching prospects, Boston could swing a blockbuster or two to bolster their rotation this offseason. Clay Buchholz is the team's veteran ace right now, after all.
It would have been very easy for the Red Sox to rest on their laurels, give Bradley more at-bats to show what he's got with Betts penciled in as the backup plan in center, but they went for it with Castillo. Offense is very hard to find these days and Boston has simply gone out and acquired as many offensive assets as possible these last few weeks. With the veteran outfield in place for next year, Betts and Bradley are without a clear long-term role beyond being a trade chip.
Show Comments
Hide Comments