Prospect Watch: Prospects with big opportunities after trade deadline
The trade deadline created some big opportunities for prospects around the league.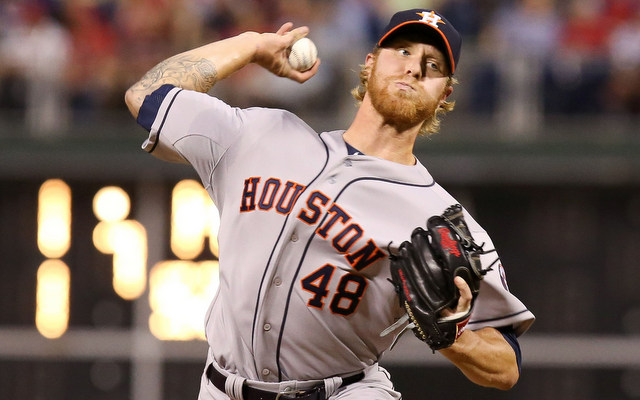 More MLB: Power Rankings | Expert Picks | Latest news & notes | Fantasy news
Last week's trade deadline was one of the most exciting and most active deadlines in recent memory. We had everything from minor swaps to legitimate blockbusters. Two blockbusters, in fact. Deadline day itself was a blast, but the weeks leading up to it were fun as well.
Trades usually accomplish two things. One, they bolster a contender's roster for the stretch run. Two, they create an opportunity on the roster of a non-contender. Teams sell off players and usually give the roster spot to a young player who might be able to help them in the future. It happens every year and this year is no different. Here are some prospects who suddenly have big league jobs following the trade deadline.
Various Pitchers, Boston Red Sox : Boston traded away four of their five Opening Day rotation members leading up to the trade deadline ( Jake Peavy , Felix Doubront , Jon Lester , John Lackey ), giving them plenty of chances to try out youngsters like RHP Allen Webster , RHP Brandon Workman , RHP Rubby De La Rosa and RHP Anthony Ranaudo . Ranaudo has made just one spot start so far, but Webster (4.91 ERA in 14 2/3 innings), Workman (4.31 ERA in 62 2/3 innings), and De La Rosa (3.43 ERA in 60 1/3 innings) are in the middle of multi-start auditions. With only Joe Kelly and Clay Buchholz penciled into the rotation next year, a strong finish to 2014 by any of those young arms could cement their spot in the team's 2015 plans.
RHP Mike Foltynewicz, Houston Astros : After trading Jarred Cosart to the Miami Marlins , Houston called up Foltynewicz and gave him a bullpen job. The 22-year-old was the 19th overall pick in the 2010 draft, and so far he's allowed two runs in 2 2/3 innings across two big league relief outings. Foltynewicz had a 5.08 ERA in 102 2/3 Triple-A innings before being called up, but the Pacific Coast League is very hitter friendly and the numbers do not do his talent justice. He routinely runs his fastball up into the high-90s, which is why Baseball America ranked him as the game's 59th best prospect before the season. Foltynewicz's future is in the rotation but right now he is getting his feet wet in relief and showing the team what he can do.
3B Jake Lamb, Arizona Diamondbacks : The D-Backs did not immediately call Lamb up after trading away Martin Prado , instead waiting about a week before giving the 23-year-old a chance. He has one hit in eight MLB at-bats so far. Lamb, who was the team's sixth round pick in the 2012 draft, hit a ridiculous .327/.407/.566 with 39 doubles and 15 home runs in 108 games at Double-A and Triple-A before being called up. Is he the next Paul Goldschmidt , the late round pick (Goldy was an eighth rounder) who tore up the minors and became an impact bat in the show within three years of being drafted? Who knows, but Arizona is going to give Lamb a chance to show whether he can be that type of player following the Prado deal.
IF Jose Ramirez , Cleveland Indians : Asdrubal Cabrera was traded away at the deadline, and everyone knows it is only a matter of time until Francisco Lindor assumes the shortstop position in Cleveland and holds it down for the next decade or so. At least that is what the team hopes. Lindor is still cutting his teeth in Triple-A though, so for the time being it is Ramirez who is getting the chance to play shortstop everyday. He is hitting only .174/.230/.188 in 78 plate appearances, which is terrible, but he's going to continue getting at-bats in the coming weeks. Ramirez won't replace Lindor as the team's shortstop of the future, but he could force his way into their long-term picture somehow. If not theirs, then possibly some other team's.
RHP Roman Mendez , Texas Rangers : Acquired in the Jarrod Saltalamacchia trade with the Red Sox a few years ago, Mendez was called up a few weeks before the trade deadline and has assumed late-inning relief work in the wake of the Joakim Soria trade. He has a 1.69 ERA in 16 innings so far, though his 10/9 K/BB ratio is something of an eyesore. That's okay though, the Rangers are in last place and can afford to give Mendez and his huge power arm the opportunity to show he can be a contributor to their bullpen going forward. A player can make a name for himself as a reliever quicker than any other position, hands down. A few good appearances and bam, you're in a high-leverage role like Mendez.
Show Comments
Hide Comments