Prospects to watch for the second half of the season
A number of prospects will be called up in the second half as teams look to make a playoff push. Here are five who could have an impact.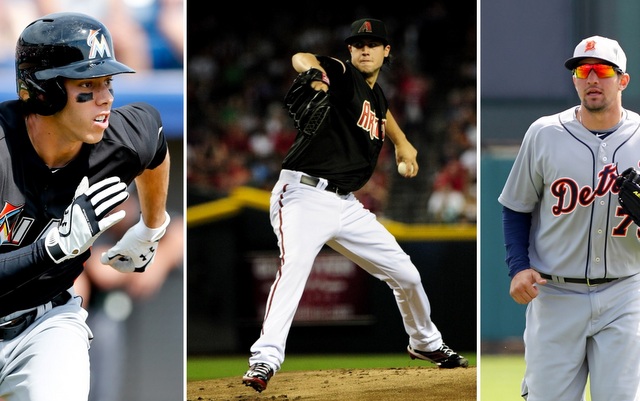 More MLB: Scoreboard | Standings | Probable Pitchers | Sortable Stats | Odds
It has been a long time since baseball had so many great young players come up and be impact players almost right away. Mike Trout, Bryce Harper, Manny Machado and Matt Harvey get all the attention, but we shouldn't forget about Jose Fernandez, Shelby Miller, Julio Teheran and Jarrod Parker. The list is seemingly endless.
In recent weeks, we've seen guys like Gerrit Cole and Yasiel Puig called up to bolster the Pirates and Dodgers, respectively, as they prepare for a second-half push to the postseason. They aren't the only youngsters with a chance to impact the pennant race, however. Here are five prospects who could become factors in the second half in one of many different ways.
Few teams can match the prospect depth the Red Sox bolster on the left side of the infield, especially if you consider recently "graduated" prospects like Jose Iglesias and Will Middlebrooks. Xander Bogaerts is arguably the best infield prospect in the game -- Baseball America ranked him as the fourth-best prospect in baseball in its midseason update last week -- and Cecchini is up there as well (41st on the midseason update). The 22-year-old has hit .349/.466/.538 with more walks (59) than strikeouts (53) in 84 games across two minor-league levels this year. With Middlebrooks' stock way down and Bogaerts likely untouchable, Cecchini could become an elite piece of trade bait at the deadline. He could pique the Phillies' interest and get them to consider moving Cliff Lee, for example.
The Tigers already have one of the best offensives in baseball and, for the most part, their corner outfield spots are set. The team could use an upgrade over Andy Dirks (75 OPS+) in left, however. Castellanos, 21, is hitting .281/.353/.455 with 12 home runs in 98 Triple-A games this season after moving from third base into the outfield midway through 2012. He could be that left-field upgrade, or perhaps he becomes trade bait for a top-shelf closer to improve the team's eyesore of a bullpen. Baseball America ranked Castellanos as the game's 15th-best prospect in its midseason update.
LHP Tyler Skaggs, Diamondbacks
Skaggs, 22, made his brief big-league debut last season (71 ERA+) and, in fact, he has already made five spot start this year (97 ERA+). He replaced the injured Trevor Cahill this month and appears to have the rotation spot locked down for the time being, though he was sent back to Triple-A during the All-Star break so the team could keep him on a regular five-day schedule. Skaggs has the potential to dominate (eight scoreless innings against the Rockies on July 5) or get knocked around (three runs in 4 1/3 innings against the Dodgers on July 10) like most young starters, but I am a believer and think he can give the surprisingly pitching-thin D-Backs a shot in the arm down the stretch. Baseball America ranked the southpaw 14th in its midseason update.
OF Oscar Taveras, Cardinals
The Cardinals might be the deepest and most well-rounded team in the game, but the Pirates are giving them a run for their money in the NL Central. Jon Jay hasn't been terribly productive in center field (88 OPS+), which is their one offensive weakness outside of the black hole at shortstop. Taveras, 21, has hit .310/.348/.471 with five homers in 47 minor league games this season (46 at Triple-A Memphis) while cutting his teeth in center, making him a prime candidate to replace Jay at some point. Baseball America considered Taveras the second-best prospect in the game coming into this year and the second best in its midseason update, putting him in that Trout/Harper/Machado echelon.
Miami has won 19 of their its 33 games, but the Marlins were so bad earlier this year that they still sit 23 games under .500. They won't make a push for a playoff spot this year, but they do have the potential to play spoiler in the second half. The 21-year-old Yelich was ranked as the eighth-best prospect in Baseball America's midseason update, and so far this summer he's hit .257/.339/.486 in 56 total games (most at Double-A) while battling a heel problem. The Marlins could decide to call him up at some point, which might create some headaches for teams looking for easy wins against the Fish. Yelich, Fernandez and Giancarlo Stanton would form one of the strongest young trios in the game.
Show Comments
Hide Comments