Pure hitter: Breaking down Frank Thomas' Hall of Fame case
Slugger Frank Thomas is on the Hall of Fame ballot for the first time in 2014. Let's take a look at the arguments for and against his induction.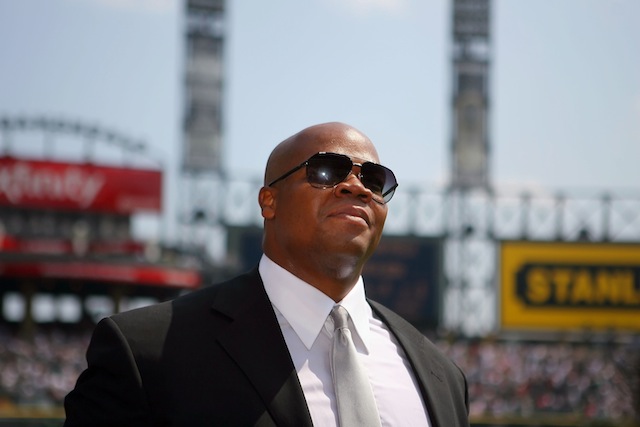 Hall of Fame cases: Luis Gonzalez | Moises Alou | Lee Smith | Fred McGriff | Don Mattingly | Jack Morris | Rafael Palmeiro | Sammy Sosa | Edgar Martinez | Jeff Kent | Alan Trammell | Larry Walker | Mark McGwire | Tom Glavine
And we soldier on in our breakdowns of every player on the 2014 BBWAA Hall of Fame ballot. Up this time is one of the great sluggers of the modern era, Frank Thomas. 
As a quick refresher, what we're doing is making the cases both for and against induction for players on the ballot. From there, it's up to you to decide which argument is stronger.
Now on to the Big Hurt ... 
THE BARE ESSENTIALS
Across parts of 19 big-league seasons (16 of those for the White Sox), Thomas batted .301/.419/.555 (156 OPS+) with 2,468 hits; 521 homers; 495 doubles; 1,704 RBI; 1,494 runs scored and 4,550 total bases. He made the All-Star team five times, was named AL MVP in 1993 and 1994, claimed five Silver Sluggers and finished in the top five of the MVP balloting nine times. 
THE CASE FOR INDUCTION
Simply put, Thomas was one of the best right-handed hitters of all-time. Consider, for instance, his all-time ranking in some key career categories: 20th in OBP, 22nd in SLG, 14th in OPS, 20th in OPS+, 18th in home runs, 63rd in doubles, 22nd in RBI, 71st in runs scored, 42nd in total bases, 10th in walks, 33rd in times on base, 29th in extra-base hits, 42nd in total bases, and fourth in sac flies. 
Speaking of homers, here's the first of the 521 he'd tally over the course of his career ... 
Thomas absolutely thrived at the two most important things a hitter can do: getting on base and hitting for power. As well, he's one of just 78 players in baseball history to log at least 10,000 plate appearances, so there's a breadth to all that rate-basis excellence.
Peak? From 1990-97, Thomas batted a combined .330/.452/.600 (!) with 39 homers and 38 doubles per 162 games played. That's eight seasons of utter dominance at the plate. Also bear in mind that the 1994-95 labor stoppage lopped off a good chunk of that peak. Absent such unrest, Thomas might have notched a 50-homer season in '94 and also made a run at becoming the first AL player to score 150 or more runs since Ted Williams in 1949. 
In terms of Thomas's astounding power, it was balanced by the fact that he was a high-average hitter capable of using the entire field. He also regularly notched more walks than strikeouts, and just three times did he whiff more than 100 times in a season. Thomas was, of course, a Walt Hriniak disciple, and that meant a balanced front-foot-heavy approach at the plate and release of the top hand at contact. In other words, Thomas's power was a controlled and harnessed power, which is why he was so much more than "just" a home run hitter. His unassailable numbers flow from there. 
Regarding all of that, here's what Hriniak himself told the Chicago Tribune in 2010:
"This isn't any BS. People ask me who was the greatest hitter I ever saw and I said if you needed a base hit, Wade Boggs, but as far as the best all-around hitter, it was Frank Thomas, hands down. He could win a game with a single down the right-field line or home run to left.''
Lofty praise, that. 
Those who would knock Thomas for being a DH should note that he also spent more than 8,000 innings in the field at first base. The larger point, though, is that Thomas's offensive bestowals are such that no reasonable DH penalty can knock him below the Hall of Fame level. 
On a different level, Thomas's steady campaigning against PED use in baseball -- particularly in light of the era in which he played -- is also in his favor, at least when it comes to BBWAA hive mind.
THE CASE AGAINST INDUCTION
It pretty much comes down to the fact that Thomas was a primary DH. Of his 2,322 career games played, 1,351 came as a designated hitter. Given the strength of his offensive dossier and how many Hall of Fame benchmarks he reaches and exceeds, a hardline "doctrinaire" kind of stance against the DH is really the only way to cast Thomas as not being an obvious HoFer. Of course, if that same voter has elsewhere cast a ballot for a closer -- in essence a "back-up" pitcher and the practitioner of a diminished role that's generally less valuable than that of a DH -- then said voter has some explaining to do. 
In other words, it's really, really hard to muster a case against a hitter like the Big Hurt. 
Wednesday: Cases for, against Mike Piazza
Show Comments
Hide Comments