Quote of the day: Jayson Werth is 'ready to eat somebody's face'
Nationals outfielder Jayson Werth provided a great quote Tuesday amid the team's disappointing season.
More MLB: Scoreboard | Standings | Probable Pitchers | Sortable Stats | Odds
The Nationals have lost three in a row and 17 of their last 28 games, so there is bound to be some frustration in that clubhouse. This is a team that was widely expected to contend not just in the NL East, but for the World Series. Jayson Werth expressed that frustration on Tuesday night:
Jayson Werth certainly hasn't lost confidence or resolve: "We gotta show up tomorrow ready to eat somebody's face."

— James Wagner (@JamesWagnerWP) June 19, 2013
Thanks to James Wagner of the Washington Post for the relay.
Well ... zombies are kind of a big deal right now, so I guess Werth was just going mainstream. Needless to say, this is a rare opportunity to mix baseball and flesh-eaters. I present ... Zombie Jayson Werth: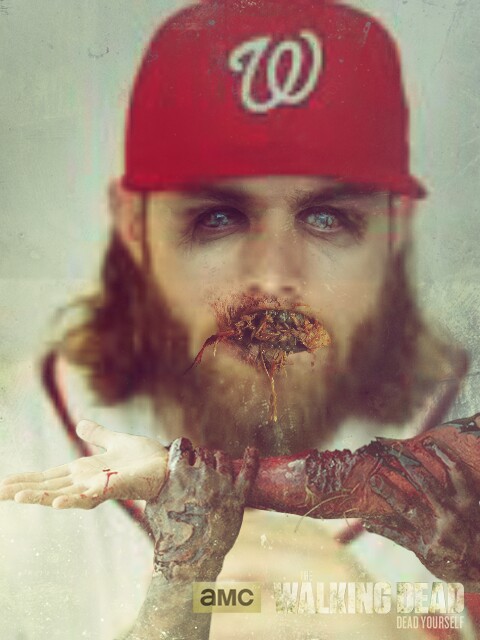 You can thank The Walking Dead "Dead Yourself" app for that one. The arm is just an appetizer for the face he apparently craves. Hopefully he just sticks to hitting baseballs, but you can never fully trust a man with a beard and long hair.
Show Comments
Hide Comments