Rafael Soriano's struggles continue with blown save on Thursday
Nationals closer Rafael Soriano blew a two-run lead on Thursday, and he continued to show some troubling signs with his performance.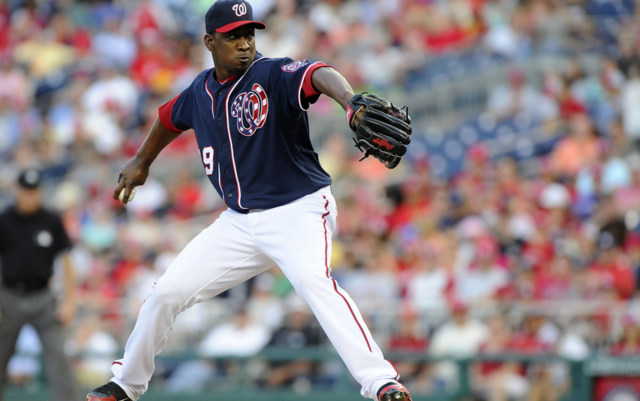 More MLB: Scoreboard | Standings | Probable Pitchers | Sortable Stats | Odds
When the Nationals signed Rafael Soriano to a two-year, $28 million contract this past offseason, they thought they were adding an elite closer to incumbent late-game relievers Drew Storen and Tyler Clippard. That monster end-game trio has not materialized.
Clippard has been excellent this year, but Storen struggled before being sent to Triple-A Syracuse in an effort to right the ship. He was recalled on Thursday. Soriano, meanwhile, has been very shaky in the ninth inning. He surrendered a back-breaking three-run homer to Giants backup catcher Hector Santiago on Thursday afternoon (video), turning a 3-1 lead into a 4-3 deficit. It was his fifth blown save in 36 chances.
Here's a comparison of Soriano's performance with the Yankees last season to his performance with Washington this year (stats include Thursday's game):
2012 vs. 2013: Rafael Soriano
Stat
2012 with Yankees
2013 with Nationals
ERA
2.26
3.40
Saves/Save Chances
42/46
31/36
Strikeout Rate
9.18 K/9
6.62 K/9
Walk Rate
3.19 BB/9
2.15 BB/9
Home Run Rate
0.80 HR/9
0.89 HR/9
Ground Ball Rate
35.9%
32.5%
RHB/LHB OPS
.549/.713
.563/.843
Average Fastball Velocity
92.3 mph
91.2 mph
There are a number of red flags there. Soriano's strikeout rate is way (way) down, lefties are hitting him much harder, and he's lost a mile-an-hour off his fastball. He did cut his walk rate though, so that's a positive. His homer rate, ground ball rate, and performance against righties are relatively unchanged.
Soriano isn't all that young -- he'll turn 34 in December -- and he does have a history of elbow problems, though he has stayed healthy so far this season. The drop in strikeout rate and inability to contain lefties should be huge concerns for the Nationals, especially since he's under contract in 2014. Maybe Soriano is just having an off year, but there are enough red flags there to suggest something else may be going on.
Show Comments
Hide Comments