Rangers prospect Joey Gallo wows during Futures Game batting practice
As you'll soon see, the Rangers have a serious power prospect in Joey Gallo.
More MLB: Power Rankings | Expert Picks | Latest news & notes | Fantasy news
MINNEAPOLIS -- It's no secret that Rangers third base prospect Joey Gallo (he may wind up at first base) has tremendous raw power. After all, he's the current minor-league home run leader this season, with 31 clouts in 85 games at High-A and Double-A levels. That's coming off a 2013 season in which he led the minors with 40 spanks, despite missing more than 30 games.
Galllo has had some issues making consistent contact ever since he was drafted by the Rangers with the 39th overall pick of the 2012 draft. That said, at the end of the day he's a 20-year-old who's slugging .644 against Double-A competition, and also compensates for the whiffs by taking his walks. Feast or famine? Perhaps, but there's a lot of feasting going on. 
Gallo's display during batting practice of the 2014 Futures Game on Sunday backed up the notion that he has perhaps the best power tool of any current prospect. For evidence of same, here's a crappy Vine I made of one of his BP shots to the right-center upper deck of Target Field ... 
As you can see, Gallo has a pretty classic left-handed power stroke -- lots of hip rotation, low barrel to the ball, high finish, late release of the top hand, absolute full extension. There's maybe a bit of a long "loading phase" going on, which may have something to do with his high strikeout tallies, but it's a pretty beautiful swing. And the outputs are even more impressive. 
Gallo's power was almost exclusively to the pull side of center field. While the shot you see above was a nifty one, he dropped the most jaws with a pair of clouts he yanked down the right field line ...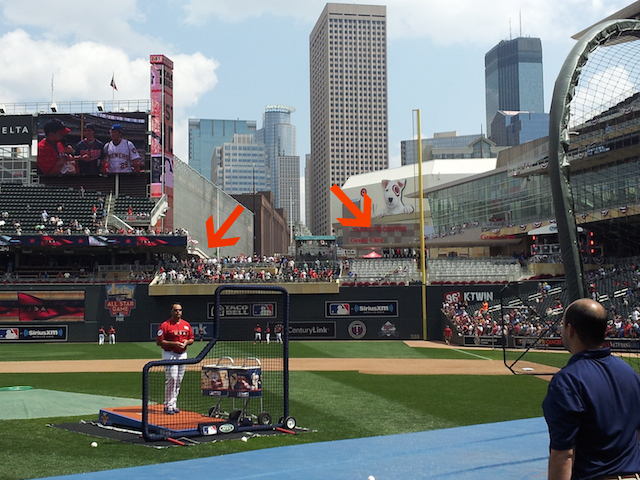 The arrow on the right marks his most impressive shot of the day. That blast cleared the sign and made its way to Third Avenue. The one indicated by the arrow on the left also crossed Third Avenue, but "merely" did so after bouncing. 
Obviously, nothing's to be assumed when it comes to prospects, even position players. It doesn't take long, though, to see why there's a great deal of anticipation surrounding Gallo. The power announces itself very, very loudly and clearly. 
Show Comments
Hide Comments