Rangers send former All-Star closer Neftali Feliz to Triple-A
Neftali Feliz has been optioned to Triple-A after struggling with his velocity this spring for the Rangers.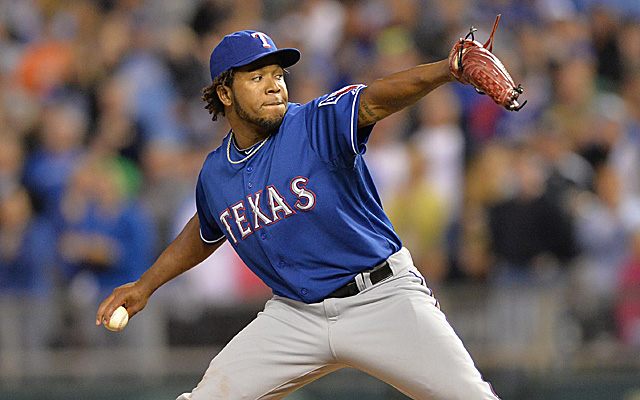 MORE: Spring Training | Scoreboard | Team previews
As is customary this time of the year, the Texas Rangers sent out a press release Tuesday announcing a few roster moves. Among them:
--Optioned RHP Neftali Feliz to Triple-A Round Rock.
While it's not entirely shocking given the recent news around Feliz (we'll get to that), it's still noteworthy.
Feliz was an All-Star and the AL Rookie of the Year in 2011, when he saved 40 games with a 2.73 ERA and 71 strikeouts in 69 1/3 innings. He was a very good closer again in 2011 before being moved into the rotation in 2012. He was injured while in the rotation and required Tommy John surgery. Last season, he returned for 4 2/3 shutout innings.
This spring, though, he's struggled with velocity. He has a 4.50 ERA, 1.50 WHIP and six strikeouts in 10 innings. He already lost the closer job to Joakim Soria and now he's headed back to Triple-A.
Reports have Feliz's fastball sitting in the 90-92 mph range -- or lower -- this spring while he used to work around the 96-98 range when he was among the game's best relievers. Considering that he threw his fastball around 80 percent of the time in 2010-11, having lost that much velocity is a huge concern.
Feliz is only 25 years old, so he'll have plenty of time to regain his old form. He'll look to do so starting in Triple-A.
Show Comments
Hide Comments
It has to do with their performance before the All-Star break and their very different performance...

Benintendi hurt his left knee taking an awkward step on the basepaths over the weekend

Chooch wished his former teammates in Philadelphia good luck
He's the leader in the clubhouse for MLB dad of the year

He prefers the strategy of National League baseball

The Rangers say they are "certainly disappointed in Jeremy's actions"