Rangers trade Craig Gentry to A's
The A's get OF Craig Gentry and P Josh Lindblom via trade while the Rangers get OF Michael Choice and IF Chris Bostick.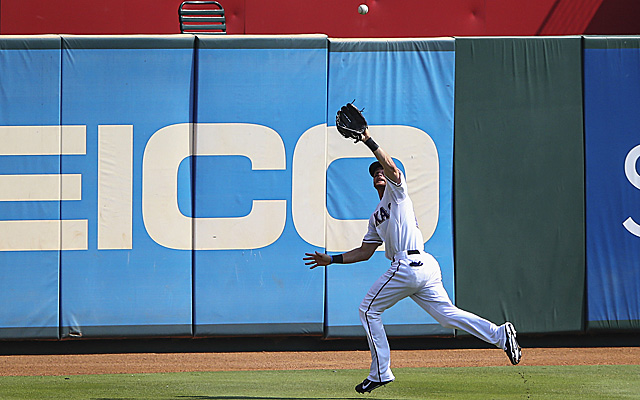 The Texas Rangers have shipped outfielder Craig Gentry to fellow AL West contender Oakland Athletics, the club officially announced Monday afternoon.
Pitcher Josh Lindblom will accompany Gentry in moving from Texas to Oakland while the return to the Rangers is outfielder Michael Choice and infielder Chris Bostick.
Gentry, 30, is the big name here. He hit .280/.373/.386 with 24 stolen bases last season in 287 plate appearances. He's a career .280/.355/.366 hitter over the course of five seasons and 763 plate appearances. He's stolen 56 bases in 66 tries in his career.
Also of note: Gentry is an outstanding defender with great range. He'll serve as an asset to the A's with his high on-base ability and in terms of covering a lot of ground in the spacious outfield at O.co Coliseum.
Lindblom, a 26-year-old right-hander, has thrown for the Dodgers, Phillies and Rangers in the past three seasons. In his carer, he has a 3.82 ERA, 1.31 WHIP and 119 strikeouts in 132 innings. He's started five games and appeared in relief 104 times.
Choice, 24, hit .278/.316/.333 with a double in 19 plate appearances last season. It was the first foray into the majors for the once-touted prospect (he was ranked at the 80th best prospect by Baseball America prior to the 2012 season before falling out of the rankings the next year). He hit .302/.390/.445 with 29 doubles and 14 homers in 132 games for Triple-A Sacramento last season. 
Bostick, 20, hit .282/.354/.452 with 25 doubles, eight triples, 14 homers and 25 steals for Class-A Beloit last season. He's played mostly second base but also a bit of shortstop in his professional career.
Show Comments
Hide Comments