Ranking the 2013 Hall of Fame candidates: No. 4, Mike Piazza
As we near the conclusion of ranking each and every member of the 2013 BBWAA Hall of Fame ballot, we move to No. 4 and brace for discussing another polarizing figure: Mike Piazza.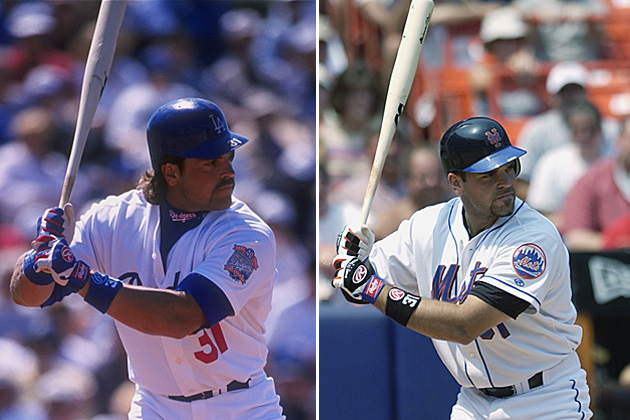 Piazza starred for both the Dodgers and Mets in his illustrious career. (Getty Images)
As we near the conclusion of ranking each and every member of the 2013 BBWAA Hall of Fame ballot, we move to No. 4 and brace for discussing another polarizing figure.
Remember, these rankings are based on an average of rankings set forth by the three Eye on Baseball bloggers -- Dayn Perry, Trent Rosecrans and I. While the official BBWAA ballot is limited to 10 players per ballot, we did not give ourselves that restriction.
All serious arguments about the Baseball Hall of Fame can get pretty heated -- which illustrates why it is the most important sports Hall of Fame, in my opinion -- and this case won't be any different because of the speculative connection between today's candidate and performance-enhancing drugs.
RELATED: Would Piazza go into the Hall wearing a Mets or Dodgers cap?
4. Mike Piazza; C; Dodgers, Marlins, Mets, Athletics, Padres; 1992-2007
Year on ballot: 1st
Career stats: .308/.377/.545, 427 HR, 1,335 RBI, 1,048 R, 2,127 H, 344 2B
bWAR, rank among candidates: 56.1, 13th
JAWS, rank among candidates: 48.4, 14th
Lots of Piazza's case screams easy Hall of Famer. He was a 12-time All-Star who won a Rookie of the Year, 10 Silver Sluggers and finished in the top 10 of MVP voting seven times. He finished in the top five of MVP voting four times.
Piazza ranks in the top 100 all-time in several offensive categories, such as slugging percentage (32nd), OPS (50th), OPS+ (62nd), home runs (44th), RBI (89th) and intentional walks (49th), among others.
A look at who was most statistically similar to Piazza in baseball history reinforces his case as a Hall of Famer. Baseball-reference.com similarity scores show the six most similar players to Piazza are already in the Hall of Fame: Johnny Bench, Yogi Berra, Gary Carter, Carlton Fisk, Gabby Hartnett and Bill Dickey.
Seeing as how those six men were all catchers like Piazza, now is a good time to point out the obvious: Piazza was arguably the greatest hitting catcher of all-time. If a player was the best-ever at something at his position, it's pretty reasonable to expect he should end up in Cooperstown.
Here is where Piazza ranks in baseball history among catchers:
Batting average: 10th
On-base percentage: 13th
Slugging percentage: 1st
Home runs: 1st
RBI: 4th
Runs: 11th
Doubles: 12th
If nothing else, he was easily the best power-hitting catcher ever. Overall, though, he's a very well-rounded hitter and excelled at nearly everything with a bat in his hands.
When the bat wasn't in his hands, though, is when Piazza was suspect. He ranks seventh in career wins above replacement player on Fangraphs.com (fWAR), despite having the best hitting score, because his defense was atrocious. Where Johnny Bench (1st in fWAR among catchers) had a defensive score of 71 in his career, Piazza scored -62.9. Yes, that's a negative sign you see there. Defensively, Piazza is deep in the red.
Those wishing to argue against Piazza could do so by saying he was awful on defense and that's half the game. Those pro-Piazza would reply by saying that in that scoring method he still rates as the seventh-best catcher in baseball history and is arguably the best-hitting catcher ever, thus, the offensive output outweighs the defensive deficiencies. Not that it matters here, but I fall in the latter group. In fact, I think pretty everyone who writes about, follows or plays baseball would fall in the latter group if it wasn't for ...
The juice.
Yep, here we are. Now that the likes of Barry Bonds and Roger Clemens are on the ballot, we're going to go through this song and dance every December with so many different players. And Piazza has been connected to PEDs.
Here's an excerpt from Jeff Pearlman's book, "The Rocket That Fell to Earth," via deadspin.com:
As the hundreds of major league ballplayers who turned to performance-enhancing drugs throughout the 1990s did their absolute best to keep the media at arm's length, Piazza took the opposite approach. According to several sources, when the subject of performance enhancing was broached with reporters he especially trusted, Piazza fessed up. "Sure, I use," he told one. "But in limited doses, and not all that often." (Piazza has denied using performance-enhancing drugs, but there has always been speculation.) Whether or not it was Piazza's intent, the tactic was brilliant: By letting the media know, off the record, Piazza made the information that much harder to report. Writers saw his bulging muscles, his acne-covered back. They certainly heard the under-the-breath comments from other major league players, some who considered Piazza's success to be 100 percent chemically delivered. "He's a guy who did it, and everybody knows it," says Reggie Jefferson, the longtime major league first baseman. "It's amazing how all these names, like Roger Clemens, are brought up, yet Mike Piazza goes untouched."

"There was nothing more obvious than Mike on steroids," says another major league veteran who played against Piazza for years. "Everyone talked about it, everyone knew it. Guys on my team, guys on the Mets. A lot of us came up playing against Mike, so we knew what he looked like back in the day. Frankly, he sucked on the field. Just sucked. After his body changed, he was entirely different. 'Power from nowhere,' we called it."

When asked, on a scale of 1 to 10, to grade the odds that Piazza had used performance enhancers, the player doesn't pause.

"A 12," he says. "Maybe a 13."
So there you have it. If you believe players who juiced should not be allowed in the Hall of Fame, the above entry is probably enough for you to believe Piazza shouldn't be enshrined in Cooperstown.
If you, like me, believe only players who tested positive and were suspended for PED use when testing was in place should be denied, Piazza's probably an easy yes.
Would we vote for him? Snyder: Yes (7); Rosecrans: Yes (6); Perry: Yes (3)
For more baseball news, rumors and analysis, follow @EyeOnBaseball on Twitter, subscribe to the RSS feed and "like" us on Facebook.
Show Comments
Hide Comments