Ranking the best 15 first basemen in Major League Baseball for 2016
Paul Goldschdmit, Miguel Cabrera, Joey Votto, Anthony Rizzo and the 11 other best first sackers. Come check it out.
As we continue with our series of ranking each position (catcher here), we now move on to first basemen and, boy, it's crowded. Major League Baseball is teeming with excellent first basemen right now, which isn't entirely uncommon, given the nature of the position.
As with catcher, let's keep these things in mind:
1. We are ranking the players based upon which ones we'd most want to have for the 2016 season only, ignoring salary. Quite simply, if money were no object and you were trying to win the World Series this season, which player would you most want to have?
2. These are subjective, as voted on by Matt Snyder, Dayn Perry and Mike Axisa. We ranked the players at each position individually and averaged out the results. You can feel free to disagree, which definitely means someone has to be wrong, stupid and biased. Respectful disagreement is so pre-Internet.
3. These aren't fantasy baseball rankings. All-around play matters.
An extra note here for 1B is that players expected to be the primary DH aren't included, so don't expect to see Edwin Encarnacion , Kendrys Morales , Prince Fielder et al.
And now, the top 15 first basemen in MLB.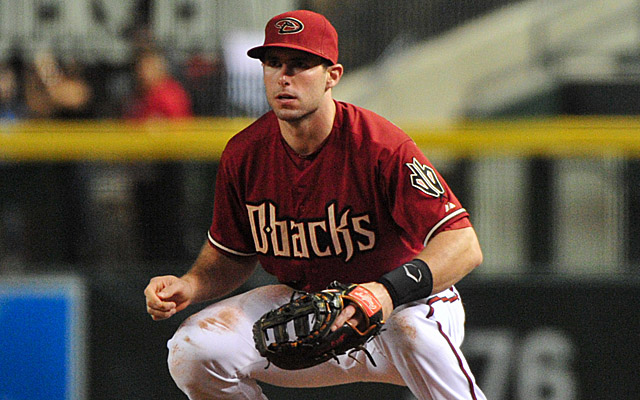 Top 15 MLB first basemen:
1.

Paul Goldschmidt

,

Arizona Diamondbacks

"Goldy" was the runner-up in NL MVP voting in both 2013 and 2015, but last season he somehow improved as the centerpiece of one of baseball's best offenses. He hit .321/.435/.570 (170 OPS+) with 38 doubles, 33 homers and 110 RBI. He's an all-around stud, too, winning the Gold Glove and stealing 21 bases in 26 attempts. If he played on a more consistent contender or a marquee team, Goldschmidt would be a household name. As it stands, he'll have to settle for sitting atop this lofty perch.

2.

Miguel Cabrera

,

Detroit Tigers

For the first time in his career, Miggy missed time last season due to the disabled list. Still, in his 119 games, he qualified for the AL batting title and won it (.338), also leading the league in OBP (.440). The two-time MVP will be 33 this season and we won't likely ever see the triple crown version of him again, but he's still one of the greatest offensive forces in the game.

3.

Joey Votto

,

Cincinnati Reds

The return of a healthy Votto last season marked his return to MVP form. He went nuts in the second half, hitting .362/.535/.617 after the All-Star break. Yes, he got on base comfortably more than half the time. Ridiculous. Overall, Votto's 29 homers were his most since 2011, he walked more than he struck out, he played solid defense and stole 11 bases.

4.

Anthony Rizzo

,

Chicago Cubs

The man in the middle of the upstart Cubs' order, Rizzo finished fourth in NL MVP voting last season. The power numbers (38 doubles, 31 homers, 101 RBI, .512 slugging percentage) were nice, but it's Rizzo's overall evolution that is most impressive. For the third straight season, his strikeout total declined while he set a career highs in walks, runs and stolen bases (17).

5.

Chris Davis

,

Baltimore Orioles

Davis has led the majors in homers in two of the last three seasons, but he had a pretty bad season wedged in between the two. Though he led the majors with 208 strikeouts last season, Davis posted a .262/.361/.562 (146 OPS+) line with 47 homers and 117 RBI. Top five is not a poor ranking for sure, but Davis gets a bit knocked for being relatively one-dimensional.

6.

Jose Abreu

,

Chicago White Sox

The 2014 AL Rookie of the Year took a step back in 2015, but that was still good for 30 homers, 101 RBI and a .290/.347/.502 line. With more company in the middle of the order this season, perhaps the run production spikes.

7.

Adrian Gonzalez

,

Los Angeles Dodgers

Gonzalez being this low shows how many great first basemen there are in the game right now. He's coming off a season in which he hit 28 homers with 90 RBI and his typically smooth defense at first base.

8.

Eric Hosmer

,

Kansas City Royals

A stellar defender who runs the bases very well, we should all be greatly acquainted with the exploits of Mr. Hosmer thanks to the past two postseasons, in which he's driven home 29 runs in 31 games.

9.

Freddie Freeman

,

Atlanta Braves

Only 26 years old, Freeman already has five full seasons under his belt with a career .285/.366/.466 (129 OPS+) line. He had 27 doubles and 18 homers in only 118 games last season.

10.

Brandon Belt

,

San Francisco Giants

As a 27 year old last season, Belt hit .280/.356/.478 with 33 doubles and 18 homers. He also stole nine bases.

11.

Mark Teixeira

,

New York Yankees

Teixeira experienced a huge power surge last season before injury derailed him, as he had 31 homers in just 111 games. The problem is he hasn't played in more than 123 games since 2011.

12.

Albert Pujols

,

Los Angeles Angels

Age and leg/foot injuries has transformed the once-elite all-around player into a one-dimensional power hitter, but Pujols still had 40 homers and 95 RBI last season. The .244 average and .307 OBP were both career lows, though.

13.

Lucas Duda

,

New York Mets

Again, there are a lot of great first basemen. Duda had 33 doubles and 27 homers last season to go with a .352 OBP and he's still all the way down here at 13.

14.

Carlos Santana

,

Cleveland Indians

Though he's hit just .231 in each of the past two seasons, Santana walks frequently enough (over 100 in both 2014 and 2015) to give him a beefy OBP (.357 last season). His power declined a bit last season (19 homers after 27 in 2014), but he's still very much a threat at the plate.

15.

Wil Myers

,

San Diego Padres

The 2013 AL Rookie of the Year will transition to first base on a full-time basis this season. He has great power potential, but durability has been a huge concern so far in his career. He only managed 60 games last season. If he can play a full season, he's a good bet for 20-plus homers and 10-plus steals.
Show Comments
Hide Comments