Ranking the opening day pitching matchups
On the eve of the first game of the 2013 season, we rank this year's 15 opening day pitching matchups.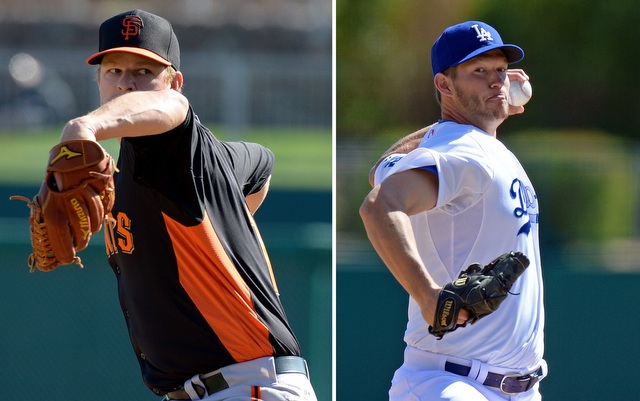 In the grand scheme of things, opening day is no more important than any other regular-season game. For a starting pitcher, though, getting the ball in that first game is an honor. It means your club has dubbed you the staff ace and expects you to set the tone for the rest of the season.
Since 1916, Tom Seaver leads all pitchers with 16 career opening day starts. Steve Carlton, Randy Johnson and Jack Morris are all tied for second at 14 apiece. Roy Halladay leads all active pitchers with 10 career opening day starts, but in a few days another pitcher will join the double-digit club.
Since every team throws its ace on opening day, that first game of the season always results in some primo pitching matchups. It's only natural that we now take those 15 matchups and rank them from best to worst. Here's our list:
Matt Cain

,

San Francisco Giants

vs.

Clayton Kershaw

,

Los Angeles Dodgers

: Easy call for the top spot. Cain is making his first career opening day start, believe it or not, while Kershaw's career performance against the rival Giants is just silly (1.37 ERA in 16 starts).

Jered Weaver

,

Los Angeles Angels

vs.

Johnny Cueto

,

Cincinnati Reds

: The token opening day interleague game features two pitchers who have combined for a 2.58 ERA in nearly 800 innings over the last two seasons.

James Shields

,

Kansas City Royals

vs.

Chris Sale

,

Chicago White Sox

: Sale emerged as a Cy Young award contender last season while Shields continues to plug along as one of baseball's premier workhorses. He'll just be wearing a new uniform now.

Cole Hamels

,

Philadelphia Phillies

vs.

Tim Hudson

,

Atlanta Braves

: Hudson will be making his sixth career opening day start, but Hamels will be making his first. These two have combined to throw nearly 1,300 innings since 2010.

Adam Wainwright

,

St. Louis Cardinals

vs.

Ian Kennedy

,

Arizona Diamondbacks

: Kennedy's ERA against the Cardinals (8.59 in four starts) is the highest among any team that he has faced at least twice. His third consecutive opening day start would be a good time to reverse that trend.

Jon Lester

,

Boston Red Sox

vs.

CC Sabathia

,

New York Yankees

: This matchup would rate higher in most years, but Lester didn't pitch all that well last season (90 ERA+) and Sabathia is coming off offseason elbow surgery. Sabathia will be making his 10th career opening day start, tying Halladay for the most among active pitchers.

Justin Masterson

,

Cleveland Indians

vs.

R.A. Dickey

,

Toronto Blue Jays

: Masterson struggled (79 ERA+) last year after having a career year in 2011 (122 ERA+). Dickey hopes to avoid a similar stumble as the reigning Cy Young winner.

Felix Hernandez

,

Seattle Mariners

vs.

Brett Anderson

,

Oakland Athletics

: I really wanted to put this pairing higher because I love Anderson, but he just can't stay on the field. Felix is the man, but you knew that already.

Justin Verlander

,

Detroit Tigers

vs.

Vance Worley

,

Minnesota Twins

: Verlander is the best pitcher in the world while Worley is Minnesota's prized offseason pickup. No disrespect to Worley, but one of those things is not like the other.

David Price

,

Tampa Bay Rays

vs.

Jason Hammel

,

Baltimore Orioles

: Hammel pitched like an ace last year (123 ERA+), at least when he wasn't battling a knee injury. Price is the reigning Cy Young award winner and will be making his second career opening day start.

Ricky Nolasco

,

Miami Marlins

vs.

Stephen Strasburg

,

Washington Nationals

: In this matchup of two-time opening day starters, Nolasco will be making what figures to be one of his final starts as a Marlin. He's the team's highest-paid player ($11.5 million), and that automatically makes him a trade candidate.

Jeff Samardzija

,

Chicago Cubs

vs.

A.J. Burnett

,

Pittsburgh Pirates

: Of all the opening day matchups, this one probably has the most "wow" potential. I'm talking both starters with 15+ strikeouts, that kind of stuff.

Edinson Volquez

,

San Diego Padres

vs. Jon Niese,

New York Mets

: Niese is subbing for fellow southpaw Johan Santana, who is expected to miss the season due to shoulder surgery. Volquez is making his third career opening day start, which is more than I realized.

Matt Harrison

,

Texas Rangers

vs.

Bud Norris

,

Houston Astros

: This matchup of first-time opening day starters will kick off the season on Sunday night.

Jhoulys Chacin

,

Colorado Rockies

vs.

Yovani Gallardo

,

Milwaukee Brewers

: Gallardo is really good and perhaps a little underrated, but Chacin is ... not.
Show Comments
Hide Comments