Rays and Orioles both play longest game in franchise history on Friday
The Rays and Orioles played a marathon 18-inning game on Friday night, the longest game in franchise history for both clubs.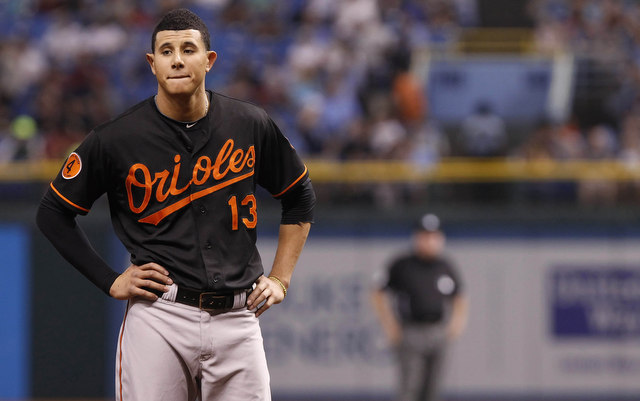 More MLB: Scoreboard | Standings | Probable Pitchers | Sortable Stats | Odds
The Rays and Orioles are both battling for a wild-card spot as the season prepares to enter its final week, and the two teams played for 18 innings (!) on Friday night/Saturday morning. David DeJesus won it for Tampa Bay with a walk-off single to drive in Desmond Jennings. The game-winning hit came on the 593rd pitch of the game.
Whenever two teams play a game this long, there are bound to be some franchise and major league records set. Let's recap the weirdness of the marathon:
•The two clubs combined to use 21 total pitchers, which is a new major league record. Gotta love September call-ups.
•The Rays became the seventh team in history to use 11 different pitchers in a single game. No team has ever used 12.
•At six hours and 54 minutes, this was the longest game in Orioles history. They've been around since 1954.
•This was the longest game in Rays history in terms of both innings and time.
•This was the fifth game of at least 18 innings this season. If that sounds like a lot, it is. There were five such games from 2010-12 and there hasn't been more than two such games in a single season since 2006, when there were four. The last time there was five 18+ inning games in a single season was 1972, when there were six.
•There was a wookie in the Rays' dugout at one point:
September 21, 2013
With the loss, the Orioles fall to 2.5 games back of the second wild-card spot. The Rays have a half-game lead on the Indians for the first wild-card spot and the Rangers fell out of playoff position. They're a half-game back of Cleveland.
Show Comments
Hide Comments
Our Latest Stories
Regarding the impact of the World Baseball Classic, the commish has a few things to say

The fourth installment of the WBC was an overwhelming success

First spring at-bat? No problem. Arrieta goes downtown to the tune of 465
The Yankees seem to be shooting down offers for veteran shortstops across the league

Fans in Puerto Rico are very proud of their players for their WBC effort

The bat-flipper extraordinaire wants MLB players to know latin players mean no disrespect