Rays at Indians for AL wild-card preview: Who has the edge?
We needed a tiebreaker game, but we finally know who our two AL wild-card teams are: the Rays and Indians. They meet on Wednesday at Progressive Field in Cleveland.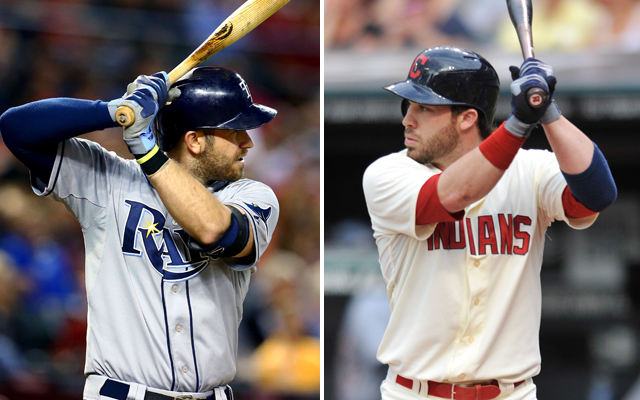 MORE: Pirates-Reds: Who has the edge?
It took 163 games, but the Tampa Bay Rays are officially in the postseason. They beat the Rangers in a one-game tiebreaker on Monday night and will now travel to Cleveland to face the Cleveland Indians in Wednesday's AL wild-card game (8:07pm ET).
Baseball is a marathon, not a sprint, which is why these one-game, winner-take-all events are so intense and impossible to predict. The best team doesn't always win on any given day. We've seen that countless times over the years. So, with the understanding that the wild-card game is unpredictable, let's break down the Rays-Indians matchup position-by-position.
Catcher: Jose Molina vs. Yan Gomes

Gomes might have the quietest 133 OPS+ for a catcher in baseball history. He's mashed all year and has taken over as manager Terry Francona's everyday option behind the plate. Molina is, uh, really good at framing pitches.
First base: James Loney vs. Carlos Santana

With Gomes entrenched behind the plate, the switch-hitting Santana is free to play first base or DH depending on the pitching matchup. He plays first against righties and figures to do so in the wild-card game. A 137 OPS+ and 20 home runs make him one of the best hitters in the game regardless of position. Loney has had a damn fine year himself (118 OPS+), plus he offers more with the glove.
Second base: Ben Zobrist vs. Jason Kipnis

Kipnis emerged as one of the very best second basemen in the game this season, posting a 133 OPS+ and earning a well-deserved All-Star Game bid. Zobrist is as productive (113 OPS+) and dependable as they come, plus he offers incredible versatility. The guy can play pretty much anywhere. In a one-game playoff, track record kinda becomes irrelevant.
Shortstop: Yunel Escobar vs. Asdrubal Cabrera

These two guys were offensive equals in 2013: 98 OPS+ (Cabrera) vs. 97 OPS+ (Escobar). The various defensive metrics absolutely crush Asdrubal both this year and over the last three years while Yunel grades out as well-above-average. I think defensive stats are best used directionally rather than taking exact runs saved numbers to heart, but either way Escobar has an enormous advantage in glovework. Enormous.
Third base: Evan Longoria vs. Mike Aviles

Aviles recently replaced Lonnie Chisenhall as Cleveland's everyday third baseman, but that doesn't change anything in this post. The Rays have a huge advantage at the hot corner in the wild-card game. Longoria is one of the very best all-around players in the world, and not just offensively either. He gets it done with the glove too.
Left field: David DeJesus vs. Michael Brantley

These two guys are carbon copies of each other. They're both lefty hitters with an OPS+ in the 107-108 range who can play center field in a pinch but are better off in left. DeJesus grades out a little more favorable in the field but not much. This is as close to even as it gets.
Center field: Desmond Jennings vs. Michael Bourn

Hamstring problems have hampered Jennings these last few days, but he played in Monday's tiebreaker and I assume he'll play in the wild-card game. He's a much better hitter than Bourn (110 OPS+ vs. 93 OPS+) even though they have a similar slap-and-speed style. Bourn's defense was solid this year but not elite as it had been in years past. Same goes for Jennings. I would give the Rays a moderate advantage here if not for the hamstring issue that was obviously still affecting Jennings as he tried to stretch a single into a double in the first inning on Monday.
Right field: Wil Myers vs. Nick Swisher

Swisher plays first base against left-handers but figures to man right field in the wild-card game. He is one of the most consistent hitters (on a year-to-year basis) in baseball, pumping out 20+ home run and 115+ OPS+ seasons like they're going out of style. He had 22 HR and a 117 OPS+ this year. Myers had an excellent rookie campaign (13 HR and 132 OPS+), at least in the 88 games he did play. Slight edge to Tampa Bay here that would become a big edge if anyone other than Swisher plays right for the Indians on Wednesday.
Designated Hitter: Delmon Young vs. Jason Giambi

In his second tour of duty with the Rays, Young has been rather productive (117 OPS+) against both righties and lefties. He also stunk with the Phillies earlier this year and has only played 23 games with the Tampa. Recent walk-off homer heroics aside, Giambi has been flat-out bad (85 OPS+) by DH standards this season.
Bench

The tiebreaker game was technically a regular season game, so each team was able to use their full expanded rosters. Things get trimmed back down to 25 players now. The Rays figure to carry two lefty bats ( Luke Scott and Matt Joyce ), one super-utility man ( Sean Rodriguez ), one defensive replacement/pinch-runner ( Sam Fuld ) and one backup catcher ( Jose Lobaton ). Scott and Joyce are two nice bats to have available for pinch-hitting situations.
The Indians, meanwhile, are likely to carry Chisenhall, Jason Kubel , Drew Stubbs and Ryan Raburn on their bench. Santana is the backup catcher but he'll be in the lineup at first base, so that could free up a bench spot for someone like infielder Jose Ramirez . Raburn has had an excellent year and Stubbs is surprisingly useful despite his contact issues, but this is a limited bench. Outside of Raburn, these guys are warm bodies and not really weapons.
Starting Pitcher: Alex Cobb vs. Danny Salazar

It's not often a top pitching prospect will make his MLB debut in the middle of a playoff race and have a profound impact, but that's exactly what Salazar did for the Tribe. The 23-year-old had a 3.12 ERA (121 ERA+) with an 11.3 K/9 and 4.33 K/BB ratio in 10 starts down the stretch, and believe it or not, the team was planning to shut him down in an effort to control his innings before clinching a playoff berth. With Ubaldo Jimenez starting Sunday and Justin Masterson nursing an oblique problem, Salazar is Cleveland's best option for this game.
Cobb, meanwhile, is emerged as one of the very best pitchers in baseball this season. He has a 2.76 ERA (138 ERA+) with an 8.4 K/9 and 2.98 K/BB ratio in 143 1/3 innings this season, a season that was interrupted by a concussion when he took a line drive to the head. Cobb has been outstanding since coming off DL (2.41 ERA in nine starts) and his knockout changeup is an equalizer pitch. It helps him control lefties in righties. He's really, really good.
Bullpen

Rays manager Joe Maddon's bullpen has been an absolute mess of late. David Price 's complete-game in the tiebreaker on Monday was as much about his dominance as it was avoiding the bullpen. Closer Fernando Rodney and setup man Joel Peralta have both struggled in recent weeks, but Maddon does have some high-end lefties in Jake McGee and Alex Torres . Jamey Wright has been very effective of late as well. That's the relief core right there -- those are the guys who will get the ball in big spots. Any other relievers are along for the ride.
Chris Perez has been a total disaster for Francona and was recently removed from the closer's role. Masterson could wind up getting save chances now that the oblique problem has landed him in the bullpen, and the setup crew of Joe Smith and Cody Allen is unheralded. Trade deadline pickup Marc Rzepczynski neutralizes left-handers and Bryan Shaw dominates the middle innings. Even with Perez being unusable, Cleveland has a very deep bullpen and a big advantage over Tampa.
Defense

Thanks in part to their abundance of shifts, the Rays are one of the very best defensive teams in the league. If you want a number, I'll give you a number: +37.7 UZR as a team. That's the fourth best in baseball, and, if you've watched them on a daily basis this summer, I'm sure the eye test would agree. The Indians are a bottom-five team with a -42.5 UZR. Ouch.
Prediction
In a one-game playoff, any prediction is nothing more than guesswork. I'm a really big fan of Cobb and think he's capable of shutting down any lineup, but the Indians have a huge advantage in the bullpen. If Salazar can match Cobb for the first five innings or so, the Tribe will be in very good shape for the late innings. I just think that's a lot to ask of a rookie approaching his innings limit. I've got the Rays winning the wild-card game 5-1 with Myers doing something big, like a three-run homer.
Show Comments
Hide Comments