Rays beat Red Sox on Jose Lobaton walk-off home run: Quick hits
Tampa Bay trimmed Boston's series lead to 2-1 with a walk-off home run from an unlikely source Monday night.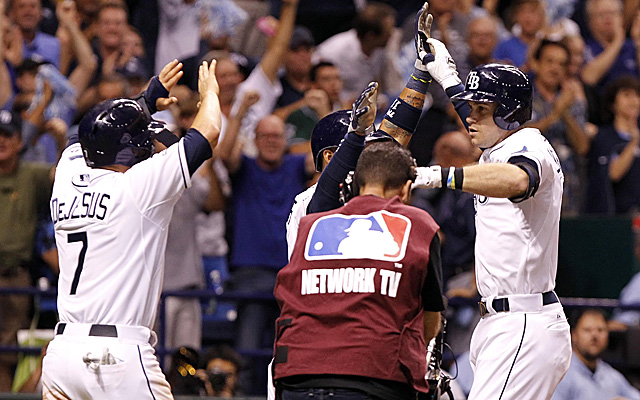 David Ortiz joins postseason 50-RBI club | Video of Longoria's three-run homer
A wild, wacky game came to an end in Tampa Bay with an unlikely finish. The end result was a 5-4 Rays win and the ALDS series lead of the Red Sox is trimmed to 2-1 in the best-of-5 round.
Hero: Gotta go with co-heroes here. Obviously, Jose Lobaton with the walkoff homer in his only plate appearance gets mention. And the other was only 1 for 5, but Evan Longoria goes here, too, because that one hit was the biggest blow of the game. In the bottom of the fifth inning, the Rays were trailing 3-0 and staring at an ALDS sweep. With two outs and two on, though, Longoria came through in a big way for his club, hitting a game-tying home run. That one swing brought home as many runs at the Red Sox in this game, so Longoria is also a hero.
Goat: Has to be Koji Uehara. He was perhaps the best reliever in the American League this season, but after getting by Ben Zobrist and Evan Longoria, he coughed up a walkoff homer to a backup catcher. Lobaton hit .249/.320/.394 with seven home runs this season. Uehara had a 1.09 ERA and 0.57 WHIP in the regular season. That homer in that spot just can't happen.
I also considered Dustin Pedrioa due to running into Stephen Drew in the eighth inning, which enabled the Rays to load the bases with one out -- and they scored the go-ahead run on a groundout. Still, Pedroia did put the ball in play in the ninth with a runner on third to tie the game, so he redeemed himself a bit there.
Turning point: Longoria's bomb. Before that, it felt like an inevitable Red Sox sweep. Someone on the Rays needed to turn the tide, and Longoria did it.
It was over when: Lobaton's home run, of course.
Next: We'll do it again Tuesday night, with the Rays playing host to the Red Sox at 8:37 p.m. ET. Jake Peavy (12-5, 4.17 ERA in regular season) will take the hill for the Red Sox while the Rays haven't yet named a starter.
Show Comments
Hide Comments